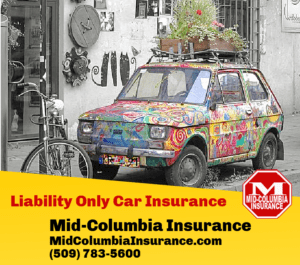 Many people think there are only two kinds of auto insurance – "full coverage" and "liability only". But what do people mean when they ask for these 'coverages'?
When people request "full coverage," they typically mean that they want collision and comprehensive coverages added to their policy so that the car would be covered if it is damaged. And just as full coverage may or may not include other coverages like Uninsured Motorist (UM) and/or Personal Injury Protection (PIP) Medical, so also, "liability only" may or may not include UM and/or PIP.
Liability is bare-bones coverage and ONLY covers damage that you cause to others or their property. It does not include coverage for your car and, unless UM and/or PIP is added, it does not cover you or the people in your car.
Why would someone want liability only?
First and foremost, liability coverage is what Washington State requires one to carry in order to operate a vehicle. If you are pulled over by the police without liability insurance you will get a ticket and if you cause an accident and don't have liability insurance you may even lose your license.
More importantly, you want liability insurance to protect your assets and possibly future wages from a lawsuit by the person you injure. This is why you may want to carry higher limits than the state's minimum liability requirement.
Why add comprehensive and collision (aka "full coverage")?
Just as the state requires you have liability insurance, if you have a loan on your car, your finance company will require collision and comprehensive coverages. If your car is paid off then you must decide if you should carry "full coverage" to cover the vehicle or not.
Why add Uninsured Motorist and/or Personal Injury Protection?
Liability covers the other guy. "Full coverage" covers your car. But lets face it, you really want yourself and your family to be covered after an accident. Uninsured Motorist and Personal Injury Protection do this. If you want to make sure you and your family get taken care of after an accident then you probably want these coverages. Ask one of our professional agents for more information about these important coverages.
How do you decide if you should add comprehensive and collision?
How much cash do you have available? If your car was totaled tomorrow, would you have enough to purchase a vehicle to replace it? If you only have enough for a down payment, could you financially handle car payments?
How much is your car worth? If your car is worth $10,000, then you most definitely would want to insure it. If it's only worth $1000, then the cost of comprehensive and collision are probably cost you more than you will be getting back from the company after an accident and they subtract your deductible.
The key here is to think about what would benefit you the most. Look at the difference in cost for "liability only" and "full coverage" (we can help you calculate this number), the value of your car (minus the deductible), and your chances of being in an accident. Personally, once the cost of "full coverage" is more than 3x the value of my car I drop the coverage.
Mid-Columbia Insurance – Your Trusted Insurance Broker
Give our insurance professionals a call today at (509)783-5600 or click "Get a Quote" to request a quote on your insurance. At Mid-Columbia Insurance, our goal is to get you the coverage you want at a price you can afford!
Español:
Article Source: Mid-Columbia Insurance Agency