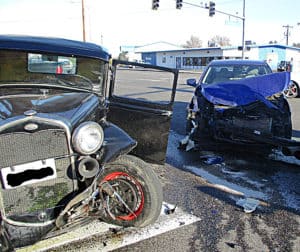 Kennewick, WA – A classic 1930 Ford Model A was totaled and its driver was taken to the hospital after a Friday morning crash in Kennewick.
The other vehicle, a Hyundai Accent, was heading north on Gum Street toward the cable bridge in Kennewick when it made a left turn onto Columbia Drive without yielding the right of way to the 1930 Ford coupe that was heading south.
According to the Washington State Patrol, both vehicles were totaled and the driver of the classic car was taken to the hospital.
---
Insurance Reflections
We have no idea what coverages either party in this accident had but are simply using this as a teaching opportunity so you can review your coverage with your insurance agent.
Mid-Columbia Insurance would like to extend our sympathies to the driver who was hurt in the accident. Our thoughts are with you through these trying times.
The Not-At-Fault Driver
Personal Injury Protection (PIP) is optional in Washington but should be carried because it can cover:
Medical and hospital expenses: up to $10,000 for each person injured in the accident. Additional coverage is available to increase this limit up to $35,000 per person.
Wage loss: up to $200 per week ($10,000 total) for income replacement.
Loss of services: up to $200 per week ($5,000 total) to pay a non-family member to do household chores you are not able to do, and
Funeral expenses: up to $2,000 for each person who died due to the accident.
Sure, the other party's insurance should cover the medical expenses but what if the other driver only has minimum limits of liability? Or worse yet, no car liability insurance at all? Also, the other insurance company does not have to pay your expenses until you settle with them. In the meantime, the hospital and the doctors won't wait and you don't want to go into collections while you wait to settle your case.
Uninsured Motorist Coverage can pay to cover both your bodily injuries and to repair or replace your vehicle if the other driver ends up not having insurance. We always recommend carrying the same amount of uninsured motorist coverage as you carry liability. As a matter of fact, you might want to increase your liability because your uninsured motorist limits can not exceed your liability insurance limits.
Collision Coverage may seem unnecessary if it is the other guy's fault especially if you have uninsured motorist coverage. Sometimes it takes a while for the other insurance company to accept responsibility, but if you have collision coverage, you can go ahead and get your car fixed, then get reimbursed for your deductible when it is all settled.
The At-Fault Driver
Liability Insurance is designed to cover situations like this. The bodily injury insurance will provide coverage for injuries to the other party that the at-fault driver is responsible for. It will only pay up to the limits the driver selected, so only $25,000 if he chose the state minimum or hopefully he chose to carry higher limits since the other driver had to go to the hospital and may end up missing work.
The liability insurance will also cover damage to the other vehicle. Again, we can only hope he is carrying more than the state minimum of $10,000 since the article says the Model A was totaled, and most 1930s Coupes are worth at least $20,000. If he only has $10,000 coverage, he will be responsible personally for the extra $10,000 – and just be glad it wasn't a new model that might run $50,000 or more.
Collision Coverage is what will be needed to fix the at-fault driver's vehicle. If he has it on his policy he can take it to a body shop to get his car fixed and will only have to pay his deductible. If the Hyundai is considered a total loss, then the insurance company will pay him the value of his car minus the deductible.
Review Your Coverages
Anytime you see an accident, it is a good time to review your coverage and imagine how your insurance would protect you if you were the at-fault driver and if you were the one hit. If you don't know your coverages or are unsure how they would work, you should contact your insurance agent and have them go over them with you.
Washington State Patrol on Twitter
Mid-Columbia Insurance – Your Trusted Insurance Broker
Give our insurance professionals a call today at (509)783-5600 or click "Get a Quote" to request a quote on your insurance. At Mid-Columbia Insurance, our goal is to get you the coverage you want at a price you can afford!
Español: 1930 Ford Modelo A Totalizado Cerca de Cable Bridge en Kennewick
Article Source: Mid-Columbia Insurance Agency