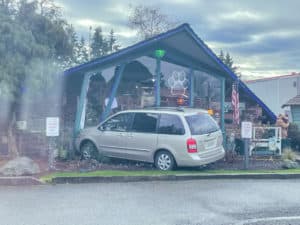 Lakewood WA – West Pierce Fire & Rescue responded to the scene of a minivan driving into A Cut Above Dog Grooming on 77th St W in Lakewood.
No people or dogs were reported injured in the accident.
---
Insurance Reflections
We have no idea what car insurance coverage those involved in this accident had, we are simply using this as a teaching opportunity so you can review your coverage with your insurance agent.
#KnowYourCoverage
Anytime you see an accident, it is a good time to review your coverage and imagine how your insurance would protect you if you were involved in a similar accident. If you don't know your coverages or are unsure how they would work, you should contact your insurance agent and have them review them with you.
---
Liability Insurance Coverage
Running your vehicle into a building is not something you want to do. But if it does happen, you want to make sure you have good car insurance. How do you define "good insurance"? In a situation like this, it probably does not matter what company you have your insurance with. Most companies will take care of the claim. What matters is how much coverage you have.
If you only have the Washington state minimum 25/50/10 liability coverage then you may end up still owing money after the insurance coverage is all spent. That final number, the 10 in 25/50/10, means you only want your insurance company to pay up to $10,000 of property damage and you are willing to take the chance and pay if it ever goes above that.
But how much will it cost to repair the building? Since it appears that weight-bearing beams were damaged by the crash, there may be structural damage to the building. Don't take the risk that this low amount of coverage places you.
Collision Coverage
If the minivan has collision coverage, then the insurance company will pay to fix it. The owner will only be responsible for paying the deductible. Without collision coverage, the owner will not get anything from his insurance company.
Until a vehicle is over 20 years old or worth less than $1000, we usually recommend owners carry physical damage coverage on their vehicles. As a car gets older and worth less and less, the premium goes down accordingly, so it does not cost much to keep the coverage on an older car.
Mid-Columbia Insurance – Your Trusted Insurance Broker
Give our insurance professionals a call today at (509)783-5600 or click "Get a Quote" to request a quote on your insurance. At Mid-Columbia Insurance, our goal is to get you the coverage you want at a price you can afford!
Español: Coche Conducido en Edificio en Lakewood WA
Article Source: Mid-Columbia Insurance Agency