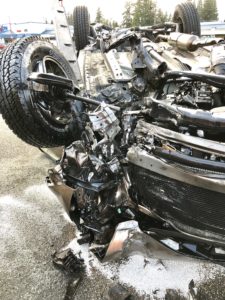 Lacey WA – On Saturday emergency vehicles were dispatched to a single-car accident in the Kohl parking lot.
According to the Lacey Fire District, and seems very apparent from the photos, the vehicle was traveling at "significant speed" when it hit the light pole causing the vehicle to roll over and end up on its roof.
The single occupant of the vehicle was treated by EMTs at the scene then transported to the hospital in stable condition.
---
Insurance Reflections
We have no idea what car insurance coverage any of those involved in this accident had but are simply using this as a teaching opportunity so you can review your coverage with your insurance agent.
#KnowYourCoverage
Anytime you see an accident, it is a good time to review your coverage and imagine how your insurance would protect you if you were involved in the accident. If you don't know your coverages or are unsure how they would work, you should contact your insurance agent and have them go over them with you.
---
The Vehicle Owner and/or Driver
In Washington, the owner of a car has primary responsibility for damages and injuries caused by a vehicle they own. This means when you lend your car to a friend or family member, you are also lending them your insurance.
The car owner's insurance will almost always cover such an accident unless the driver is a household member or regularly uses the vehicle but is not listed as a driver on the policy.
If the driver has their own insurance, it can step in as secondary coverage to protect the driver but would not protect the owner of the vehicle.
Liability Insurance Coverage
Auto insurance is designed to cover damage done by a car. Luckily it still pays when you do something stupid like speeding and who knows what else in a mall parking lot. Repair of the light post will probably cost thousands of dollars.
Physical Damage Coverage
If the vehicle has collision coverage, then the insurance company will either pay to fix the car or pay the policyholder for the value of the car if it would cost more to repair the car than it is worth. In this situation, there is enough damage that it definitely looks like the vehicle will be totaled by the insurance company.
Mid-Columbia Insurance – Your Trusted Insurance Broker
Give our insurance professionals a call today at (509)783-5600 or click "Get a Quote" to request a quote on your insurance. At Mid-Columbia Insurance, our goal is to get you the coverage you want at a price you can afford!
Español:
Article Source: Mid-Columbia Insurance Agency