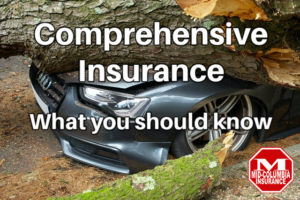 What is comprehensive insurance?

Comprehensive insurance protects your car from damage due to events outside of your control, such as weather, animals, or theft, and excludes damage from an accident with another vehicle or a stationary object.
What is covered under comprehensive insurance?
Comprehensive insurance helps protect your vehicle from:
Fire
Vandalism
Theft
Falling objects
Natural disasters
Damage caused by animals (such as hitting a deer)
How does comprehensive insurance work?
Washington state requires drivers to carry liability insurance but all other coverages, including comprehensive, is optional. You can choose if you want to carry comprehensive coverage. It can be purchased with or without collision coverage. We recommend comprehensive coverage for any car worth more than $1000, especially if it costs less than $25/month per $1000 value.You may want to consider a "zero deductible" glass option if available or a $100 deductible if not.
Deductibles
Your comprehensive deductible is the amount you pay toward a claim to get your car's damage repaired. Your insurance company covers the remainder, up to the value of your vehicle.
Example: If a tree branch falls and dents your car's hood. Fixing the hood costs $1,500 damage and you have a $500 deductible. You will pay the first $500 and your insurance will pay the remaining $1,000 ($1,500-$500).
Limits
Unlike coverages like liability insurance, comprehensive doesn't offer multiple limits for you to choose from. The maximum amount comprehensive insurance will pay is normally equal to the value of the car. If your car is worth $10,000, then that is the most your insurance company will pay. You only have to pay the deductible.
Is comprehensive insurance full coverage insurance?
Full coverage is a term banks use to mean you have the coverage required to fix your car and is not a type of insurance. At a minimum, the term full coverage insurance means that comprehensive and collision are included on the insurance policy. Insurance companies call this Physical Damage coverage.
Mid-Columbia Insurance – Your Trusted Insurance Broker
Give our insurance professionals a call today at (509)783-5600 or click "Get a Quote" to request a quote on your insurance. At Mid-Columbia Insurance, our goal is to get you the coverage you want at a price you can afford!
Español:
Article Source: Mid-Columbia Insurance Agency