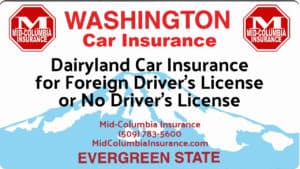 Can you get car insurance if you don't have a driver's license? Yes! We are able to help you with your car insurance even if you don't have a U.S. driver's license.
We always want to provide "excelente servicio" to our customers and one of the ways we do this is by only representing great car insurance companies. Dairyland Auto, one of the many companies we represent, makes that easier since they speak the language. Dairyland Auto's bilingual support, tailored coverages, and payment flexibility allow us to offer a wide range of services to our customers to serve them throughout the life of their policy.
Through Dairyland Auto, we can write car insurance policies for those with a Mexican license, Matricula, or other foreign license, or even for unlicensed drivers. Dairyland Auto's affordable insurance and low down payments are available to those with and without a valid U.S. driver's license.
Dairyland Auto also offers bill alerts to keep their customers informed of upcoming bills with a choice of English or Spanish text or email reminders. This is an easy way to remember to keep your insurance paid!
Dairyland Auto's bilingual Customer Care and Claims teams are available by phone, and their website changes from English to Spanish with the click of a button. And you can use My.DairylandInsurance.com or their toll-free number, (800) 334-0090
, to make payments on your Dairyland Auto Insurance policy 24 hours a day.
Mid-Columbia Insurance – Your Trusted Insurance Broker
Give our insurance professionals a call today at (509)783-5600
or click "Get a Quote" to request a quote on your insurance whether you have a driver's license or not. At Mid-Columbia Insurance, our goal is to get you the coverage you want at a price you can afford!
Español: Seguro de Auto de Dairyland Para Conductores Extranjeros o Sin Licencia
Article Source: Mid-Columbia Insurance Agency