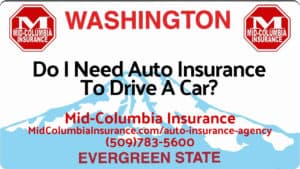 Yes, Washington state, like most states, requires a minimum amount of liability coverage in order to protect others on the road. Either the vehicle's owner must have insurance that covers you driving the car or you must have insurance that covers you driving borrowed vehicles.
There are 3 ways to make sure you are insured:
Regular Car Insurance – If the owner has the car insured and you are either a listed driver on the policy or fall under the "permissive use" terms of the policy. Permissive use normally excludes anyone who lives in the same household as the insured or who borrows the vehicle on a frequent basis.
Non-Owner Insurance – Very limited coverage that is designed for people who rarely drive and when they do are not using a vehicle that is parked at their residence or lent to them frequently.
Broad Form Insurance – Covers you when driving any personal use car or pickup. A broadform policy gives you peace of mind, knowing you are covered no matter whose car you happen to be driving.
Mid-Columbia Insurance – Your Trusted Insurance Broker
Give our insurance professionals a call today at (509)783-5600 or click "Get a Quote" to request a quote on your insurance. At Mid-Columbia Insurance, our goal is to get you the coverage you want at a price you can afford!
Article Source: Mid-Columbia Insurance Agency