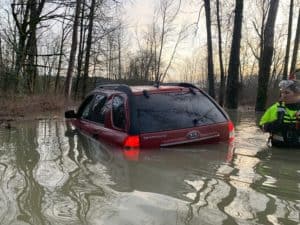 Fall City, WA – A police chase of a vehicle stolen in Bellevue led to the two suspects abandoning the stolen vehicle in Issaquah and fleeing on foot. They then carjacked a woman in a red Kia Sportage but were blocked in by patrol cars. One of the car theft suspects was pulled from the car and arrested but the other suspect put the Kia in reverse and rammed the police vehicle that had blocked him in and drove off.
After a long chase by multiple police agencies and the King County Sheriff helicopter, the suspect had to abandon the Kia and surrender to the police after driving the vehicle into the flooded Snoqualmie river at the end of Dike Road in Fall City.
Both suspects were taken into custody. The carjacking victim was not injured and an Issaquah police officer suffered only minor injuries.
Watch the video of the chase taken from the King County Sheriff's Office helicopter below.
---
Insurance Reflections
We don't know what car insurance coverages those involved in this incident had. We are simply using this as a teaching opportunity so you can review your coverage with your insurance agent.
#KnowYourCoverage
Anytime you see an accident, it is a good time to review your coverage and determine how your insurance would protect you if you were involved in something similar. If you're not sure about your coverage or don't know how it would work, contact your insurance agent and have them review it with you.
---
Comprehensive Coverage
A stolen vehicle is covered by comprehensive coverage. Comprehensive and collision coverage together are commonly called 'full coverage' since these are the two coverages that protect your car from physical damage and are the two coverages that a bank would require if you are financing your vehicle.
Besides covering your vehicle for damage done while stolen, comprehensive coverage covers physical damage to your vehicle due to something other than a collision, which is why some companies will call this "Other Than Collision" coverage. This includes vandalism, theft, hail, falling objects, and running into an animal.
Comprehensive coverage is relatively inexpensive. Even if you don't want to carry collision on an older vehicle, comprehensive might be a great idea to continue since it also covers replacing a windshield. We also suggest carrying the lowest comprehensive deductible possible so that you don't end up having your replacement windshield cost less than your deductible.
Personal Injury Protection (PIP)
You may wonder how Personal Injury Protection (PIP) would help in this situation. PIP covers medical expenses involving a vehicle. Any injuries to the woman who was carjacked would be covered by the vehicle's Personal Injury Protection. In Washington state, insurance companies must offer at least two levels of coverage, $10,000 and $35,000. These would pay medical bills up to the limit chosen as well as lost wages up to those same limits.
Personal Injury Protection may seem unnecessary if you have medical coverage but it really can complement it since your health insurance probably does not pay 100% of doctor and hospital bills and because your medical insurance does not cover lost wages.
---
Mid-Columbia Insurance – Your Trusted Insurance Broker
Give our insurance professionals a call today at (509)783-5600 or click "Get a Quote" to request a quote on your insurance. At Mid-Columbia Insurance, our goal is to get you the coverage you want at a price you can afford!
Español:
Article Source: Mid-Columbia Insurance Agency