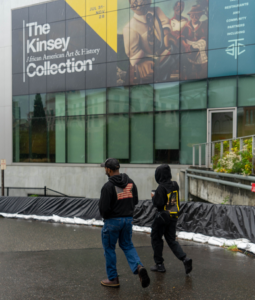 When we knew that we would be teaming up with the Kinseys and Tacoma Art Museum for the exhibition, the Buffalo Soldier design was one that jumped right out of The Kinsey African American Art & History Collection catalogue and into the running for items in the pop-up shop. In the beginning of the design process, Khalil simply asked me to look through the Kinsey Standard catalogue and get a feel for all the works in the collection. In our second meeting, we looked through the catalogue together and began to discuss how some of the pieces connect to community and focus on how certain artifacts and art connected specifically to us Tacomans.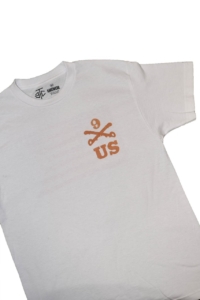 In our talks about the Buffalo Soldiers and their sordid past, we began to explore the connection the Buffalo Soldiers have to Tacoma and to our upbringing because of the Buffalo Soldiers Museum that still stands in Hilltop off 19th Street. When we were students in elementary school, the group would hold reenactments during assemblies at certain Tacoma Public Schools. For some of us Tacomans, our earliest memories of the Buffalo Soldiers are tied to academia. It's been more than a decade since we have heard a peep about the Buffalo Soldiers in Tacoma and this moment felt like an opportunity to remind ourselves and honor their history.
Learn more about the Buffalo Soldiers, pick up your own t-shirt or pullover, and shop the full line of eTc x The Kinsey Collection merchandise at the TAM Store online.
Disclaimer: This release is only available through the TAM pop-up location!
The TAM pop-up location is located at 1701 Pacific Ave Tacoma, WA, 98402. Hours of operation are Wednesday, 10:00 am to 5:00 pm and Thursday through Saturday 11:00 am to 7:00 pm. Shop online at the TAM Store website.
Banner photo courtesy of Perris Wright and eTceTera.
Source: Tacoma Art Museum