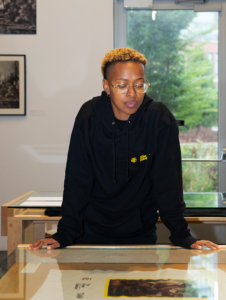 Mount Tacoma from Lake Washington by artist Grafton Tyler Brown was the first piece of art to be approved for apparel as part of the collaboration for the pop-up shop. It's the most eye-catching piece both for ourselves and all the Museum's visitors because there is so much familiarity behind the piece. When we began to center the visual significance of landscape to our region, I explained to Khalil and the team how the mountain is more often than not considered the crown jewel of Washington state scenery. It's something all of us in Western Washington share regardless of cultural or financial backgrounds. It's a part of our day to day and a visual marker to us that provides comfort. If the mountain is glistening white, big and bold with no clouds for cover then that is a good omen.
I was also eager to share the persistent, ongoing battle for the mountain's name and recognize that even Grafton had not been completely accurate when referring to the mountain. Its original name is pronounced Tahoma or Tacoma (təqʷuʔməʔ, pronounced "Taquoma" in Twulshootseed).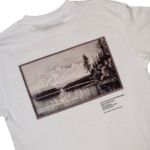 What we decided on in the end was to ensure that Mount Tacoma from Lake Washington was included because of Grafton's significance as the first Black man to paint the Northwest and the universal place the mountain holds as a landmark to the entire state of Washington.
Grab prints, pullovers, and t-shirts featuring this iconic piece and check out the full eTc x The Kinsey Collection collaborative merchandise at the TAM Store Online.
Disclaimer: This release is only available through the TAM pop-up location!
The TAM pop-up location is located at 1701 Pacific Ave Tacoma, WA, 98402. Hours of operation are Wednesday, 10:00 am to 5:00 pm and Thursday through Saturday 11:00 am to 7:00 pm. Shop online at the TAM Store website.
Banner photo courtesy of Perris Wright and eTceTera.
Source: Tacoma Art Museum