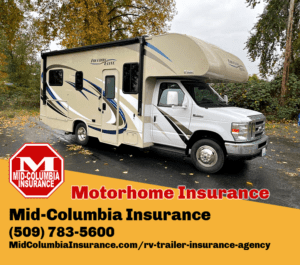 When you are using an RV as a residence, you need the right mix of coverages to protect the RV as both a vehicle and as a home. The National General Insurance RV policy is designed to specifically address the needs of RV owners.
Full-Timers Coverage extends standard RV coverage to include comprehensive personal liability and medical payments, similar to a homeowners policy, to customers living in their RV full-time.
The optional Vacation Liability Coverage adds liability coverage for RVs temporarily parked, protecting you against liability for injuries around your campsite like "slip-and-falls" and campfire-related injuries.
Mid-Columbia Insurance – Your Trusted Insurance Broker
Give our RV insurance experts a call today at (509)783-5600 or click "Get a Quote" to request a quote on your RV. At Mid-Columbia Insurance, our goal is to get you the coverage you want at a price you can afford!
Español: Alguna vez pensó en vivir en una RV del tiempo todo?
Article Source: Mid-Columbia Insurance Agency