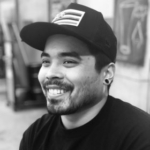 Representing nearly 30 years of youth development and creative cultivation through glassblowing, GATHER: 27 Years of Hilltop Artists includes work from 21 Hilltop Artists alumni with artistic practices rooted in the Tacoma community. Featuring contemporary glass artworks from vessels and sculptures to neon and installations as well as paintings and mixed media, GATHER highlights the outcomes and reach of the Hilltop Artists program while shining a light on opportunity gaps faced by these artists, many of whom have not yet been included in exhibitions on this scale.
Curated by Hilltop Artist alum and current Teaching Artist, Trenton Quiocho. Quiocho recently sat down with Tacoma Art Museum to discuss the motivations behind organizing GATHER, what he hopes the increased visibility will do for the Hilltop Artists program, as well as what drives his own artistic process when glassblowing.
What inspired you to begin organizing GATHER? Why do you think it is important that Hilltop Artists shares this show with the public?
Trenton Quiocho [TQ]: "This show really came out of a personal desire to see my mentors, colleagues, and students exhibited out in the community. As someone who has seen their work and witnessed the energy these artists have put into their craft, I found it frustrating that others didn't recognize it, as well. It's important that Hilltop Artists shares this exhibition with the public because not only do we want to demonstrate the impacts of the program on young people, but we also want to be the catalyst in creating pathways for these artists in building their artistic careers."
It's important that Hilltop Artists shares this exhibition with the public because not only do we want to demonstrate the impacts of the program on young people, but we also want to be the catalyst in creating pathways for these artists in building their artistic careers.
GATHER marks a moment of arrival that is important for all artists who have ever felt excluded, marginalized, erased, or discounted. More than that, it highlights the importance of community organizations in shaping the next generation of artists. At its core, Hilltop Artists celebrates diversity, providing glassmaking opportunities for Tacoma youth and investing in young people in our community. By bringing GATHER to Tacoma Art Museum, the exhibition is challenging the status quo, questioning who is an "insider" and who is an "outsider," who is an "authentic artist" and who has value in the space.
For Quiocho, the connections to the program at Hilltop Artists run deep. In addition to organizing the exhibition and working for the Hilltop Artists' team, Quiocho is also an alum of the program, finishing up in 2008. Skills he learned in his time there have helped him continue to hone his craft.
What are your earliest memories of Hilltop Artists?
[TQ]: "My earliest memory of Hilltop Artists was walking into the classroom at Wilson (now Silas) High School and being in awe of an actual glassblowing class in a high school. At that moment, all I knew was that I wanted to learn how to blow glass."
How did you continue your training after Hilltop Artists?
[TQ]: "After Hilltop Artists, I continued working with glass in different capacities—first at a production studio in Seattle called Glassybaby. Then, I picked up work at the Museum of Glass as their Hot Shop Tech and as an instructor in their Hot Shop Heroes program. I also worked at the Chihuly Boathouse for a few years, until the pandemic hit" [in March 2020].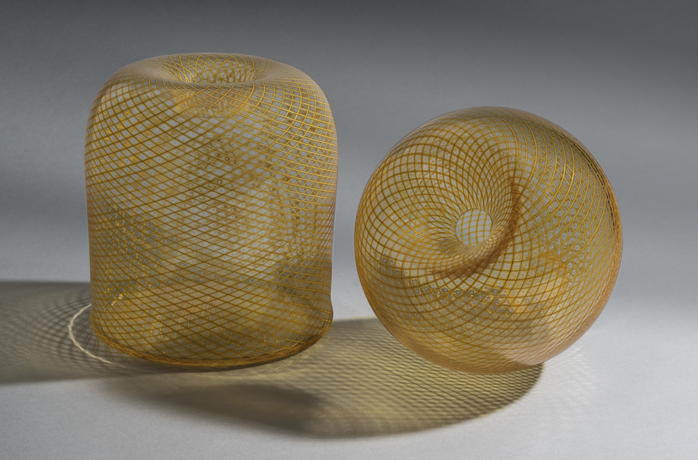 What does your creative process look like? How do you get started on a new piece? How do you know when it's "finished?"
[TQ]: "My creative process has changed over the years. With my recent work being so heavily influenced by my cultural background, a lot of my time is spent researching and gathering information on different subjects related to Filipino culture, history, and mythology. Being that I am three generations removed, the research part of the process is the most critical aspect, especially as I think through how I want to honor this history and culture through re-imagined motifs."
"A new piece always starts with an idea that is then sketched out, and eventually materializes into a tactile, three-dimensional glass object. It's amazing to see how an idea takes shape in a tangible way! My process sometimes takes years before any idea comes to fruition. Sometimes I revisit old ideas and approach them in a different way. I know when a work is finished once it feels like I've done everything I've needed to do to a piece."
What advice do you have for young artists? Both those who may be of the age to go through the Hilltop Artists program or those who may have already made their way through it.
[TQ]: "My advice for young artists is don't be afraid to fail. If you are dedicated, your time to shine will come. Failure isn't necessarily a bad thing—you need failure in order to learn and grow. As a glassblower of color, I've faced a lot of adversity trying to make it in this community. But through it all, I've continuously shown up as my authentic self—and would encourage young artists to do the same. Be true to who you are!"
What is one thing that you hope visitors take away after visiting this exhibition?
[TQ]: "I hope that through GATHER, visitors will leave inspired by the work, and the diversity and breadth of talent showcased throughout this exhibition."
GATHER: 27 Years of Hilltop Artists is now on view at the Tacoma Art Museum through September 4, 2022. Explore the exhibition online here. To learn more about the work they do for their community, visit the Hilltop Artists' website here.
Portions of this blog post are paraphrased from an essay by Dr. Kimberly Keith, Executive Director at Hilltop Artists. Read Dr. Keith's full GATHER essay here.
Source: Tacoma Art Museum