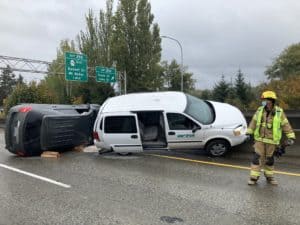 Bellingham, WA – Troopers, @BellinghamPD, and Medical personnel are on scene of a 4 car involving a semi-truck and @ridewta vehicle southbound on I-5 at State Street. A small red passenger car was getting on I-5 from State Street and lost control becoming sideways. The WTA van, Chevrolet Equinox, and Semi-truck were unable to stop resulting in the chain reaction collision.
According to the Bellingham Herald, firefighters on emergency broadcast radios said two patients needed to be taken to the hospital with injuries, one of them with advanced life support.
Insurance Reflections
We have no idea what car insurance coverages anyone involved in this accident had but are simply using this story as a way to discuss insurance options in a real-life scenario so you can review your coverages with your insurance agent.
As the driver who caused the accident
Hopefully, you had insurance. But do you have enough?
When you purchase your insurance policy you decided how much protection you wanted the insurance company to provide. We all hope never to be the one to cause a crash but that is why they are called accidents. You can choose Washington's minimum insurance requirements of 25/50/10, or better options of 50/100/50, 100/300/100, and beyond.
Property Damage: 2 minivans and a semi were involved in the accident that you, most likely, will be found at fault for. From the photo, the two vans appear to be totaled. No idea about the damage done to the semi, but let's just assume it won't be cheap.
Washington state's minimum insurance requirement for property damage is really a joke. It requires drivers to carry at least $10,000 for property damage. Maybe it was enough back in the 1970s when the mandatory insurance law was passed in Washington but today it is not enough to cover anything other than a minor fender bender.
Most likely all 3 of the other vehicles had over $10,000 worth of damage. So the total bill there will probably be between $30,000 and $50,000 or more. Who pays when the insurance runs out? The driver who caused the accident.
Bodily Injury: If, as reported, only 2 people were hurt, you got off lucky. But "advanced life support" means a big bill from the hospital.
Washington state's minimum bodily injury insurance requirement is just that, minimum. It requires you to carry at least $25,000 per person for bodily injury with a maximum payout of $50,000 if more than one person is hurt. And if it goes over $25,000 per person or $50,000 total? That is on you, the at-fault driver.
So what do you do if you don't have any insurance or not enough? Maybe you can get a loan to pay the others off, or sell your home, or have your wages garnished for the next 10 to 20 years. Much simpler to buy enough coverage to protect your assets to begin with.
As the driver of one of the other vehicles
Hopefully, the driver who caused the accident has enough insurance to cover the damages to your car and any medical bills you incur. The problem in this scenario is that there are 3 vehicles and their passengers that will have to split the at-fault driver's insurance coverage. Once the maximums are split up, you will have to depend on your insurance to make up the difference.
If the other driver did not have insurance or it turns out he does not have enough to cover all 3 vehicles that were damaged and their passengers, what can you do? Luckily, there is insurance for that!
Uninsured Motorist Coverage (UM) is one coverage you should never be without. With Uninsured Motorist coverage, your insurance company will cover your passengers' and your bodily injury and your property damage up to the limits of coverage you chose, usually matching your liability limits.
You and your passengers are also eligible to be covered by Personal Injury Protection. See details below.
As the passenger in any of the vehicles
Personal Injury Protection (PIP) is often called No-Fault Medical because it protects those covered no matter if they caused the accident or are a victim of the accident. The driver of the car that caused the accident and the other drivers could be covered by their own PIP insurance. Any passengers in any of the vehicles could be covered by the PIP insurance on the car's insurance policy and also by their own personal PIP coverage.
Yes. Your own PIP coverage can protect you even if you are not in your car. It will protect you if you are involved in a car accident as a driver or as a passenger in someone else's vehicle as well as if you are hit by a car while riding a bike or as a pedestrian.
PIP is optional in Washington but can cover:
Medical and hospital expenses: up to $10,000 for each person injured in the accident. Additional coverage is available to increase this limit up to $35,000 per person.
Wage loss: up to $200 per week ($10,000 total) for income replacement
Loss of services: up to $200 per week ($5,000 total) to pay a non-family member to do household chores you are not able to do, and
Funeral expenses: up to $2,000 for each person who died due to the accident.
Review Your Coverages
As you can see there are a number of variables that you need to consider when purchasing your insurance coverage. This is why having an agent you can call and discuss coverages with is so important. Just talking to some random person in a cubicle halfway across the country (or across the world) is no substitute for a personal insurance agent. And if you chose your coverages by just clicking boxes online, then you are your own agent. Good luck with that.
If you would like to review your insurance coverages, call us today at (509)783-5600 or Request A Quote Online.
Article Source: Mid-Columbia Insurance Agency