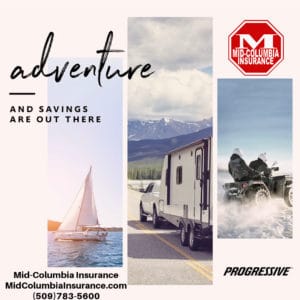 With all the things you want to do, buying insurance is definitely low on your priority list. Luckily our team at Mid-Columbia Insurance can provide you with inexpensive insurance coverage with a personal touch.
Riding a motorcycle is the ultimate thrill. The open road and the wind in your face is a great feeling.
Motorcycle insurance protects you in the event of an accident. The summer months, obviously, is when most motorcycle vs passenger vehicle collisions occur. The Insurance Institute for Highway Safety (IIHS), says that 62 percent of rider fatalities happen between May and September, with most in June. If you do decide to ride, make sure you have insurance protecting you.
For those who love to camp, an RV (recreational vehicle) is the ultimate way to go. Being able to stay in your own place while on the road is amazing.
Whether your RV is a motorhome, travel trailer, or pickup camper, be sure you have the right coverage. Some companies allow you to add these to your existing auto policy but you can get more specialized coverage designed for RVs from other insurance companies.
Water splashing on your face as your boat smacks the waves is exhilarating. But boating has its own unique hazards.
The U.S. Coast Guard reported over 4,000 boating accidents in 2019 with 613 deaths, 2,559 injuries, and over $55 million dollars worth of property damage.
Even if you don't need coverage to fix your boat or jet ski, don't skip on liability insurance coverage in case you hurt someone or something. It could end up costing you thousands of dollars.
The coverage you want at a price you can afford
Get professional advice from a friendly agent at Mid-Columbia Insurance. Whether you are just comparing rates or finding ways to save money, our team can help.
Call today at (509)783-5600 or online at MidColumbiaInsurance.com
Article Source: Mid-Columbia Insurance Agency