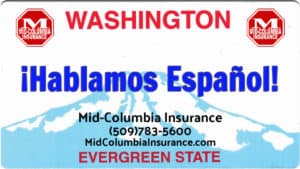 Yes, our staff is fluent in Spanish. Mid-Columbia Insurance takes pride in serving the Hispanic community. Our insurance agents and customer service representatives are fluent in Spanish (and English, of course).
Our agents understand the complexities of insurance and can advise customers regarding coverages in English and Spanish. Special needs, such as an SR-22 filing, having an out-of-state or even out-of-country driver's license, and tickets for driving without insurance are no problem.
Customer service is our priority at Mid-Columbia Insurance. Our Spanish-speaking clients do not have to wait for a lone Spanish-speaking agent but can be served by any and all in our offices. Being able to help our Hispanic community in Spanish with policy questions or payments is not only more convenient but a necessity.
¡Hablamos Español! – We Speak Spanish!
Call today for a quote! (509)783-5600
Article Source: Mid-Columbia Insurance Agency