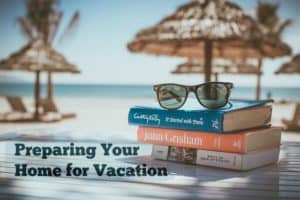 Now that summer is in full swing, many people are leaving on vacation! (Hopefully, you're one of them!)
Today we wanted to share a few ideas to help you protect your home and belongings, even while you're out of town.
Preparation Time:
Book a pet sitter. If you have pets, then you know that waiting until the last minute to book a sitter can ruin your travel plans. This is especially true if you're leaving during a holiday weekend or popular vacation time. Get your travel dates booked early so your pets are well cared for.
Plan for your plants. If you have beautiful landscaping (or even houseplants), you'll want to make a plan to keep your plants watered during your trip. This could involve setting up a sprinkler on a timer, hiring someone to come and water your lawn, or just giving some extra water before you leave. It really depends on the length of your trip and the weather!
Clean out the fridge. Throw out any food that may spoil before you get home. Otherwise, you might have a smelly surprise on your hands when you return! Try to use up any pantry staples (like bread) in the days leading up to your vacation so they don't get stale.
Hold your mail. The post office allows you to put your mail on hold for up to 30 days. You can even make the request online! Have your mail held securely and pick it up once you get back. This also helps prevent your home from looking empty from an overstuffed mailbox.
Alert a neighbor. Ask a trusted neighbor or friend to keep an eye out for any suspicious activity around your property while you'll be gone. Remember to leave a contact number so they can reach you if needed!
Day Of Your Trip
Set the thermostat. You don't want your air running all day in July while you're gone! Turn it up before you leave to keep your utility bills low. Just don't make it too hot if you'll have animals staying home alone.
Leave a light on. You don't want your house to look vacant. Leave a porch light or other indoor light on during your vacation. Also, consider putting these lights on timers so they appear more natural!
Don't Forget!
Your home insurance and renters insurance will keep your belongings protected, but your insurance info needs to be up to date to offer the best coverage. If you have high-end jewelry, collectibles, antiques, or guns that will be in your home, make sure to discuss the special coverage that might be needed with your agent. Call us today and then go have a great vacation!
Mid-Columbia Insurance – Your Trusted Insurance Broker
Give our insurance professionals a call today at (509)783-5600 or click "Get a Quote" to request a quote on your home or renters insurance. At Mid-Columbia Insurance, our goal is to get you the coverage you want at a price you can afford!
Español: Preparación para su Casa por Vacaciones
Article Source: Mid-Columbia Insurance Agency