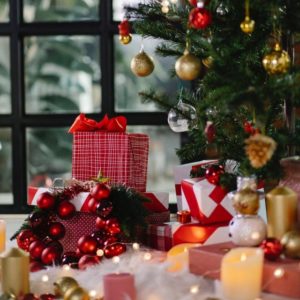 Although most home burglaries occur in the summer months, there is a significant increase in the number of burglaries leading up to and following Christmas. More than three-quarters of all home burglaries are committed by non-professionals, who are typically desperate and therefore dangerous.
The majority of these break-ins take place during the daytime hours when no one is at home. Homes that lack security are the primary targets. Also popular with burglars are residences with privacy fencing and large shrubs, which help hide the thieves while they case your home.
Homeowners insurance or renters insurance can help replace Christmas gifts that are stolen if your home is burglarized, but why not do all you can to prevent it?
9 ways to help protect your home during the holidays:
Smart locks should be installed on your doors. Criminals frequently enter homes through a back door or side window. Smart locks use a special entry code. As a result, there's no need to hide or share spare keys.
Close your curtains. While you're away, cover your windows. If criminals can view what is inside your home, they are also a popular way to get into your home. Window sensors are a fantastic way to protect your home. When forced entry is detected, you or an alarm company are notified.
Ask your neighbors to keep an eye on your home. Ask them to report any suspicious visitors or cars to the police.
Install timers on your interior and exterior lights. You can also add motion light sensors to your home's outdoor lights. A dark residence is an invitation for burglars to come and help themselves.
Point exterior home security cameras toward the doors. You may catch crooks in the act, and packages delivered to your home can also be monitored. Interior cameras can be monitored inside the house to help make sure everything is as you left it.
Avoid putting up yard decorations. These provide burglars with a place to hide. Holiday decorations are enjoyable and engaging, but be sure they don't serve as an excellent hiding spot.
Store Christmas gifts in a safe spot. Don't put presents in the garage, a shed, or your car's trunk, where thieves can easily break in. It's not a good idea to keep goods under the Christmas tree in plain sight, especially if your windows or blinds are open. You are basically inviting theives to break in!
Have your packages shipped to a secure location. Whenever possible, ship products to your workplace or take advantage of in-store pickup services. Set up email or text alerts to confirm when packages arrive if you need to ship something to your home. If your front door is too visible from the street, request that packages be delivered to your back door.
Don't throw away boxes from Christmas gifts. Thieves will scout your garbage looking for signs of high-priced items like a big-screen TV or other high-tech gadgets. Boxes should be taken to your local recycling drop-off.
Mid-Columbia Insurance – Your Trusted Insurance Broker
Give our insurance professionals a call today at (509)783-5600 or click "Get a Quote" to request a quote on your insurance. At Mid-Columbia Insurance, our goal is to get you the coverage you want at a price you can afford!
Article Source: Mid-Columbia Insurance Agency