A new year has many of thinking about possible resolutions and here at Tacoma Art Museum we have our own goals that we want to work towards in 2022. One of our curatorial goals is to work on building a more diverse collection by acquiring artworks by women and artists of color. In service of this important goal, we have recently acquired four artworks by Latinx artists. I am happy to share works by Margarita Cabrera, Enrique Chagoya, and Rodrigo Valenzuela are now part of the Museum's permanent collection. Two of these artists were born and raised in Mexico and one is from Chile, but all are currently living and working in the United States. Their work offers intriguing ways to look at the socio-political landscape of some controversial and challenging subjects, which is one of the reasons that I find their inclusion in our collection so important.

Rodrigo Valenzuela
In 2021, Rodrigo Valenzuela received the notable Guggenheim Fellowship award, and he is currently an assistant professor at UCLA. However, he spent about ten years in the Northwest where his impact is felt. TAM's recent acquisition of Stature No. 13 will be the second photograph by Valenzuela in the collection.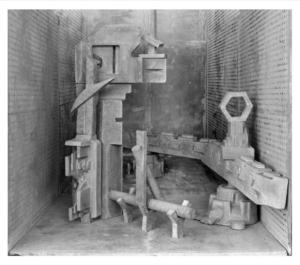 Stature No. 13 is part of a recent series of photogravures that were exhibited at the Asya Geisberg Gallery in New York in 2020. The work is a visual feast in black and white, a creative cornucopia that comments on consumerism and waste, among other topics. Set in a room with similar aesthetics to a storage unit or a loading dock, there is a curious assemblage of materials that recalls factory equipment with conveyor belts, although a case could be made for its playful resemblance to building blocks and playground equipment. I imagine that many visitors will enjoy seeing the work and thinking through its many complexities. The sculpture, made from discarded materials, is an artwork in and of itself; it could be likened to a Lousie Nevelson sculpture or even a Piet Mondrian with its emphasis on geometric shapes. I wish I could walk around this sculpture to explore it as an installation, like some of Valenzuela's other work. However, the photographic element adds layers, a barrier of sorts, to exploring the sculpture and its commentary on manufacturing and consumption.
Margarita Cabrera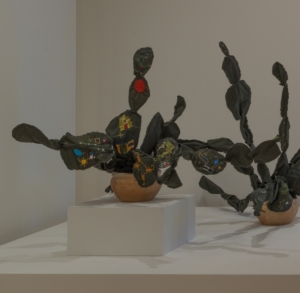 Nopales #x is the first artwork by Margarita Cabrera to be acquired for TAM's permanent collection. At a time when people from Mexico and other Latin countries were being treated inhumanely at the border due to the immigration politics of Donald Trump's presidency, this work spoke mountains to the challenges faced and was put on view in the Immigrant Artists and the American West exhibition in the Haub Family Galleries from 2018-2021. The large sculptural nopales, made from the uniforms of border patrol agents, is a symbol that honors the natural elements of the desert Southwest despite the violations of human rights that people are facing in the region. The repurposed fabric was sewn into the oval pads of the plant and hand-embroidered with various motifs and images related to life around the United States-Mexico border. Embroidered on one pad is the outline of a watchtower looming over a path filled with people trying to cross the border; another pad simply has a red sun made from tiny radiating stitches; there is a religious depiction of the Madonna; and, there is an image of a man in a sombrero resting under a bright yellow sun. This sculpture provides a nice contrast to some of the more serene images of the Southwest in the Museum's collection.
Enrique Chagoya
Enrique Chagoya's The Ghosts of Borderlandia from 2017 is also very different from the romantic images of the West that are a part of the Haub Family Collection. Chagoya's illustrative, pop style makes witty and pointed observations about the border and immigration in the form of a codex, a book-like manuscript important in Mesoamerican cultures that is read from right to left. The codex is 80 inches long with eight distinct sections that open and close with an accordion fold. When fully extended to display the story in its entirety, an image of the large, prominent border wall fills the codex. There is visual symmetry with a green archway at both the beginning (viewer's right) and the end (viewer's left) of the wall. However, standing in the archway at the beginning of the codex is an appropriation of Venus from Botticelli's The Birth of Venus; in the final archway stands a human skeleton, a memento mori, if you will. The rest of the pages are filled with fragments of people, including are recognizable pop culture icons as diverse as Vincent Van Gogh and Frida Kahlo to Elizabeth Taylor and Wonder Woman. Although their likenesses are recognizable only from images of the top of their heads—they are missing their eyes, ears, noses, and mouths. Without these key parts of their faces, it is as if they have no senses, no ability to connect with other people, which is much like how the border wall separates and divides us. This visual dissection of people is also a poetic metaphor for the ongoing violence at the border, where people are separated from one another, causing harm to people, families, and communities.

It is an exciting time to collect art from Latinx artists. In the year ahead, TAM will be presenting more artwork about Mexico by Mexican artists in the upcoming exhibition, Luces y Sombras: Images of Mexico from the Bank of America Collection. Stay tuned for a chance to see outstanding photography by Mexican and traveling artists who find their inspiration in the many rich themes endemic to the country and landscape.
Source: Tacoma Art Museum