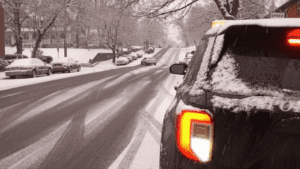 Spokane WA – A drunk driver on their way home from a Christmas party was involved in three different hit & run accidents, according to a Spokane Police Department press release.
Police responded to the first accident just before 6:30 p.m. on Dec. 15 when officers were dispatched to a collision involving a black Jeep and a dark-colored Subaru which had driven away from the scene of the accident.
Authorities received another report about five minutes later of a Subaru seen driving on the curb, swerving into oncoming traffic, and then colliding into another vehicle. Once again, the driver fled the scene, according to the police.
About three minutes later, police responded to a third crash involving the same Subaru and a gold Jeep. When police arrived at the scene of the third accident, the driver of the Subaru had obvious signs of impairment and was arrested for hit-and-run and a DUI.
"Spokane Police want you to enjoy your time with your friends and family but get home safely by having a designated driver," according to the news release.
---
Insurance Reflections
We have no idea what coverage any of those involved in this accident had but are simply using this as a teaching opportunity so you can review your coverage with your insurance agent.
#KnowYourCoverages
Anytime you see an accident, it is a good time to review your coverage and imagine how your insurance would protect you if you were the at-fault driver or if you were the one hit. If you don't know your coverages or are unsure how they would work, you should contact your insurance agent and have them go over them with you.
The Drunk Driver
Although it is easy to become self-righteous when reading about drunk drivers, especially in situations like this where the driver is so obviously impaired, many of us may have gotten behind the wheel when we probably shouldn't have. After just 2 drinks, even though the driver is well below the 'legal limit', impairment has increased your odds of being in an accident greatly.
A DUI can ruin your holiday. Please drink responsibly and arrange for a sober ride home.
Liability Insurance Coverage
Thankfully auto insurance is not voided when someone does something stupid like drinking and driving. Their auto liability insurance will pay for any bodily injury and property damage they cause up to the limits of their policy.
If the drunk driver had sideswiped 3 cars in one location, the three other parties may have had to split the insurance policy's limits, but because this was three separate accidents, the policy could pay out the max limits three times. If the drunk driver had only the state minimum limit of $10,000 property damage then any damage over that would probably have to come from the victim's insurance, as we will discuss below.
No mention is made about any of the other vehicles being occupied, so we can only hope all 3 vehicles that were hit were unoccupied. If not, then it would be the bodily injury portion of the driver's liability insurance that would have to pay for any injuries or lost wages.
Physical Damage Coverage
If the at-fault driver has collision coverage on his policy, then he may be able to get his car fixed. Being that it was 3 accidents, depending on the location of the damage to his car, the drunk driver may end up having to pay the deductible 3 times if each collision caused damage to a different part of the vehicle. If the vehicle is a total loss, then I am not sure if just one deductible would be deducted from the vehicle's value or three.
The Not-At-Fault Vehicles
Three vehicles were hit by the drunk driver. We can only hope he had enough insurance, if any at all, to cover the damages done. When it comes to insurance, it is never wise to depend on someone else's insurance to protect you. You buy insurance to protect yourself and if the other party's insurance does step up and cover you, all the better but it is not something you want to depend on.
Uninsured Motorist Coverage
If the drunk driver ends up not having insurance, uninsured motorist coverage can pay to fix your vehicle, usually with just a $100 deductible in Washington. Uninsured motorist can also cover you if you or your passengers were hurt or missed time at work due to the accident. We always recommend carrying the same amount of uninsured motorist coverage as you carry liability. As a matter of fact, you might want to increase your liability because your uninsured motorist limits can not exceed your liability insurance limits.
Collision Coverage
You could also use your collision coverage to fix your car. This may seem unnecessary if it is the other guy's fault orif you have uninsured motorist coverage but sometimes it takes a while for the other insurance company to accept responsibility or determine if the other driver was insured or not. But if you have collision coverage, you could go ahead and get your car fixed, then get reimbursed for your deductible once it is all settled.
Mid-Columbia Insurance – Your Trusted Insurance Broker
Give our insurance professionals a call today at (509)783-5600 or click "Get a Quote" to request a quote on your insurance. At Mid-Columbia Insurance, our goal is to get you the coverage you want at a price you can afford!
Español: Conductor de Spokane DUI Responsable de 3 Choques Arrestado
Article Source: Mid-Columbia Insurance Agency