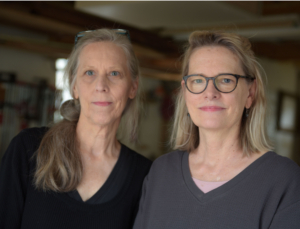 The creative collaboration between Kranitzky and Overstreet began in 1985 when a mutual interest in ceramics prompted them to create mixed-media jewelry to raise funds for a kiln. The serendipitous flourishing of this project launched their collaborative venture known then as Lost & Found. Over the years their jewelry has evolved into intricate, narrative brooches which are now in permanent museum collections including the Museum of Fine Arts Boston, Museum of Fine Arts Houston, Philadelphia Museum of Art, Metropolitan Museum of Art, The Smithsonian Collection: National Museum of Contemporary American Craft and the Design Museum Helsinki, Finland. Robin and Kim have participated in many exhibitions over the years and their work is featured in numerous publications. The Kranitzky & Overstreet studio is located in Richmond, Virginia, USA.
Robin Kranitzky and Kim Overstreet recently took time to chat with the Tacoma Art Museum and give background into their process, how they started working together, and how their collaboration has evolved over the years.
Who are some fellow jewelry artists or artists in general who have inspired you throughout your career?
Kranitzky & Overstreet [KO]: The artists who have influenced us the most are the Quay Brothers with their animation sets and their sensibility, the detailed work of Faberge, the designs of Lalique, and Joseph Cornell's boxes. We have often referenced surrealists such as Dali and Escher. As for fellow jewelry artists, there are so many whose work we love and admire. To name just a few, Amy Tavern, Jo Pond, Susie Ganch, Joyce Scott, as well as Dave & Roberta Williamson. However, we have been most influenced by items discovered in antique shops and in the vast collection of objects throughout the VMFA.
How did you get into jewelry making as opposed to another creative outlet like painting or sculpture?
[KO]: Simply put, our backgrounds were not in jewelry making but our collaboration led us in that direction. When we met in 1985, Kim was a graphic designer dabbling in ceramics and Robin's main interest was ceramics. So, as we were both working in clay, we decided to join together to purchase a kiln. To accomplish this, our plan was to create and sell brooches from our combined mixed-media "stuff". These early works were very simple and enjoyable to make. As we continued, we realized there was wonderful creative potential in our collaboration. We quit our day jobs and never bought the kiln.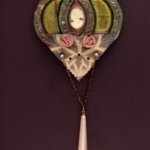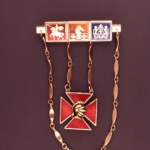 What message, if any, do you hope to convey through your work?
[KO]: Because we work in a narrative style, the message would depend on the individual piece. These narratives could reference politics, religion, news items, personal struggles, etc. Since the works are one of a kind, each message is different. If, for instance, we were working on a commission, then the meaning would be very specific and relevant to that individual. Generally, our aim is for people viewing our work to discover something compelling and perhaps a desire to find their own personal interpretation.
In what ways do you share your passion and engage with the community and fellow artists?
[KO]: Over the years participating in craft shows was the major way for us to engage with other artists and receive feedback on our work. As time went on there were other opportunities to share our passion through lectures and demonstrations. Teaching opportunities arose locally and in North Carolina and Washington D.C. and in our studio we have enjoyed hosting creative workshops. As a unique project through a local gallery, we stepped out of our usual routine and engaged the public to offer their interpretations of an inkblot image. We then used these interpretations as a jump off point in our creation of narrative wall pieces. Currently, we share our work through Instagram and Facebook.
What does your creative process look like? How do you get started on a new piece? How do you know when it's "finished?"
[KO]: Our creative process starts with an object, a theme, a narrative, a commission or even a material that we want to explore. If we are working on a commission, or if our jumping off point is a specific subject, we would start with research, then we proceed with construction.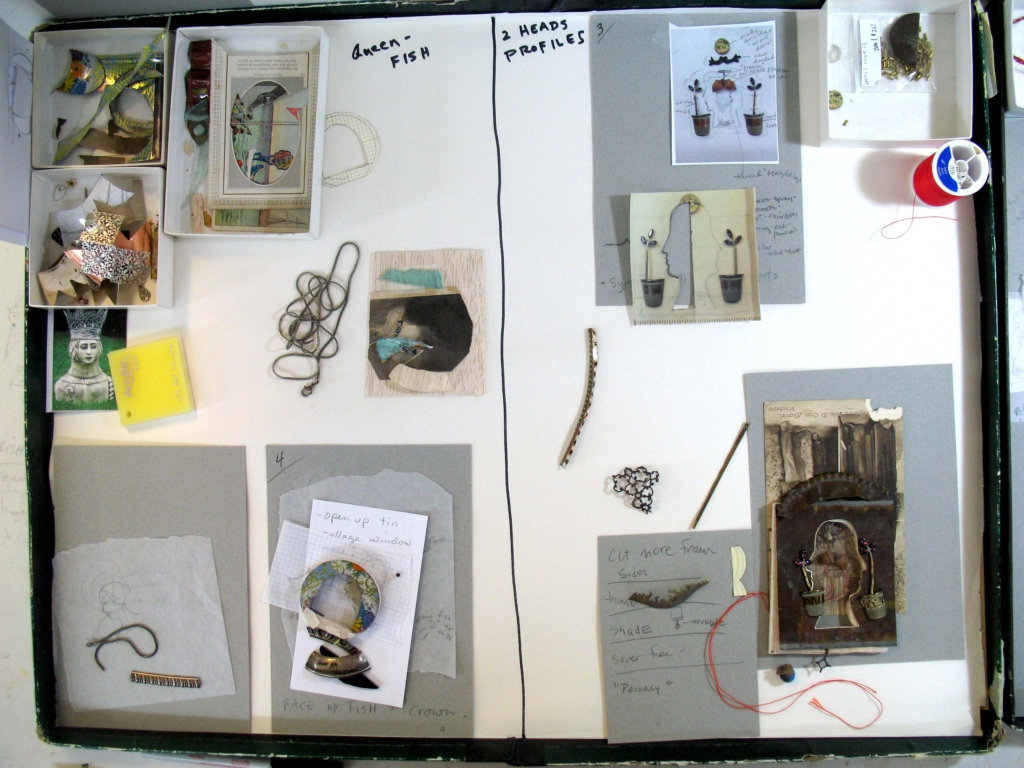 In the first step toward construction, an index card is laid out for each new piece. On each card we begin placing objects we feel have a connection with each other or items that have relevance to our theme. Examples may be a tiny ceramic head, an insect, an inspirational vintage card or a material we're eager to use. These are items upon which we would begin to build a story.
Referencing the index cards, we discuss each piece in detail and decide on a path the creative process will take. At this time we decide if the brooch will have a display stand and which tasks each of us will do. We will make notes and sketches on the index cards to ensure we both know the plan.
Then we start building, layer by layer, adding more pieces, revising, making more sketches, etc. Our work has evolved from being constructed mainly of found objects, to extractions from found objects, along with parts fabricated from raw materials. If we need an object that we don't have, we will find a way to make it. For instance, if we need a pool of water, then carving, sanding and waxing a piece of acrylic will fit the bill. If we need a small billowing curtain, then we would make it out of thin copper or paper.
When we agree that there is no more to do on a piece, it is considered "done". And even though we are satisfied that the piece is done, days, weeks, months or even years later, we can easily have a discussion about what we could have done, added or changed. Which will then lead to ideas for future work.
In what ways do you try to challenge yourself when making new pieces?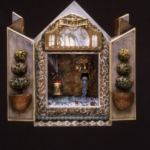 [KO]: The challenges always seem to find us, instead of the other way around! In trying to create unique pieces, naturally it's thought provoking to join together diverse materials and objects in a cohesive way. However, we enjoy experimenting in our efforts to take something ordinary and perceive it in a new way. We have also challenged ourselves to find ways to improve how our work is viewed. For example, since our pieces are layered narratives in a small box format, they can be difficult to see into. Our problem was solved by integrating windows and skylights into the design. Another goal was to ensure our work could be on display when not being worn and so we began creating stands for them to be on view instead of hidden away in a drawer.
What does generosity mean to you as an artist? How do you emulate this?
[KO]: Generosity comes in many forms, but as artists we believe generosity is sharing freely the skills and knowledge we have gleaned over the years. For instance, helping to build props for a church or school production, preparing a festive display for a friend's wedding, serving on art show judging panels. Donating materials to other artists or art centers as well as donating work for fundraisers.
Is there a piece you think is most representative of who you are as an artist and the themes/stories you try to convey?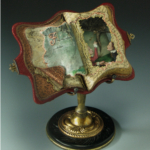 [KO]: Yes, our brooch titled Brain Storm created in 2005 would be a good example. The brooch is in the form of an open book depicting two female figures interacting. Between the figures and over their heads is a whirling tornado. We have so often compared our creative process with the overwhelming task of trying to funnel infinite ideas into one.
How much do you think about the person who might end up wearing your work when you're creating something?
[KO]: If the piece is a commission, then we are constantly thinking of that person and what they have asked us to portray. If were not familiar with the person, we may ask certain questions and may have them send a personal item to include in the design. We want that person to feel a strong connection to the finished piece. We often think of the wearer when it comes to wearability. Our work may look heavy, because many of the pieces are quite large, but with a few exceptions we have strived to keep them lightweight.
Works from Robin Kranitzky and Kim Overstreet are now on extended view as part of the Christopher and Alida Latham Display. Explore more work from these artists and other studio art jewelry makers on our eMuseum.
Source: Tacoma Art Museum