The Christopher and Alida Latham Display showcases a wide variety of works from the museum's important Northwest studio jewelry collection. A generous donation from the Lathams enabled us to reimagine how these small artworks can be more prominently and effectively shown to highlight their technical and creative artistry.
The collection of studio art jewelry at TAM is focused on Northwest artists but includes selected works by national and international artists who are important influences for the artists of the region. The artworks range from the streamlined modernist works of the 1940s and 1950s through the narrative, found object, and funk aesthetics that followed, to contemporary conceptual jewelry informed by current events and ideas.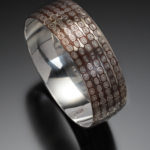 Phillip Baldwin, a second generation craftsman, started working in hot forged steel in 1967. Over the next 10 years, he learned the basic techniques of ironwork and entered the graduate metalsmithing program at Southern Illinois University (SIU) in 1977, graduating with an MFA degree in 1979. Upon leaving SIU, he was a resident artist for two years at the Oregon School of Arts and Crafts in Portland. In 1983, he formed Shining Wave Metals, a firm engaged in the commercial manufacture of exotic metals for the art metal field.
---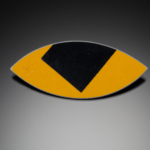 Boris Bally began his training as an apprentice with the Alexander Schaffner Goldsmeid in Basel, Switzerland. He went on to complete his BFA in metals from Carnegie Mellon University, Pittsburgh in 1984. Bally's work can be found in numerous collections including the Cooper-Hewitt, National Design Museum, Smithsonian Institution in New York; Victoria and Albert Museum, London; Indiana University Art Museum, Bloomington; and Goldschmiedgesellschaft, Torsten Bröhan, Hanau in Germany among others. He also has been featured in numerous international exhibitions and publications.
---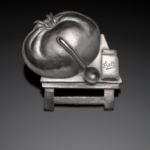 Candace Beardslee earned an MFA in metals from the University of Washington and a BA in Art Education from Central Washington University. She also attended Cornish School of Fine Art and Burnley School of Professional Art, Seattle. She has received several awards for her work including an Artist Trust Fellowship. Candace's work has been exhibited nationally and internationally and her work is in the collections of the Victoria and Albert Museum, London, and the Tacoma Art Museum. Candace has taught continuing education in metals at North Seattle Community College and the University of Washington and workshops at Penland and Pratt Pratt Fine Arts Center, Seattle.
---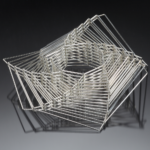 Flora Book started her career working at the McCall Pattern Company as a designer. She remembers this first job as a critical part of her education in textiles and design.
In 1976, Book began to develop her aesthetic vision while taking painting classes in Montreal, Quebec, at the Saidye Bronfman Centre for the Arts. She was encouraged to reduce her color choices, and she started to gravitate toward shades of gray because of their affinity to silver. During this time, she also studied fiber arts and jewelry.
In addition to Tacoma Art Museum, Book's jewelry has been collected by the Metropolitan Museum of Art and the Museum of Arts and Design in New York, the Museum of Fine Arts, Boston, the Detroit Institute of Arts, the Smithsonian Institution's Renwick Gallery, the Wustum Museum in Racine, Wisconsin, and the Victoria and Albert Museum in London.
---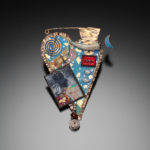 Trained in Painting and Drawing (BFA) and in Jewelry and Metalsmithing (MFA) Ken Bova's work is one-of-a-kind mixed media assemblage, sometimes jewelry, made of vividly colored, painted, patterned, and textured bits of varying materials combined with silver and gold. His work has been published in American Craft, Metalsmith, Art Jewelry, and Ornament magazines and in a variety of exhibition catalogs, books, and articles.
---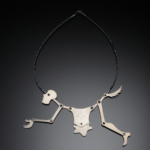 Jana Brevick received her BA in Apparel Design from Western Washington University in 1995 and her BFA in Metal Design from the University of Washington in 1999 where she studied with Mary Lee Hu and John Marshall. She also lists Kiff Slemmons as an important mentor and influence. She has had several solo exhibitions of her work at SOIL Gallery in Seattle and has participated in numerous group exhibitions both regionally and nationally including the Crocker Art Museum in Sacramento, the Society of Arts and Crafts Gallery, Boston and Tacoma Art Museum as well as in England and Germany. She has lectured and taught at Penland School, the University of Wisconsin, and Bellevue Art Museum.
---
Marcia Bruno began studying jewelry and metals as an undergraduate in college, later exploring plastics and other nontraditional materials which became her primary media. Bruno graduated from the Tyler School of Art in metals in 1988 and did graduate work at the University of Washington. Her mentor there was Mary Lee Hu. She currently lives and works in Seattle.
---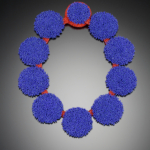 David Chatt received his BA in Design from Western Washington University and later pursued further studies at Pilchuck Glass School as he developed his interests. He has made a specialty of creating sculptural works with glass beads from vessels to sculptures to jewelry.
His work can be found in the collections of the Corning Museum of Glass, Museum of Art and Design, Museum of Fine Arts Boston and the Renwick Gallery of the Smithsonian American Art Museum, among others.
---
Patty Cokus is a studio jewelry artist currently residing in Seattle, Washington. She received her BFA from the Massachusetts College of Art in Boston and has exhibited internationally at venues including: The Gallery at Crafts Council Shop at the Victoria and Albert Museum in London; John Michael Kohler Arts Center, Sheboygan, Wisconsin; Facèré Jewelry Art, Seattle, Washington; Velvet da Vinci, San Francisco, California; and Society of Arts and Crafts, Boston, Massachusetts. In addition to making jewelry, she also is a metalsmith and works with glass.
---
Russell Day was an artist and jewelry maker with a flair for bold design. He taught art at Snohomish High School before taking a position at Everett Junior College (now Everett Community College) in 1949. Day created a vibrant art program at EVCC and established the college's first gallery in the 1950s. He retired from EvCC in 1976 but continued his creative work up until his death at the age of 106. He and his wife, artist Marjorie Day, drew inspiration from the Northwest as well as world travels. Day was an early teacher and mentor to artists Chuck Close and Dale Chihuly.
---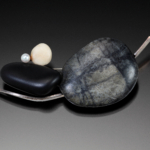 Margaret De Patta was a key founding figure in the American modernist jewelry movement. She was a founding member of the San Francisco Metal Arts Guild and is widely acknowledged as a mentor to many of the Bay Area jewelers. Her architectural forms were influenced by the Constructivists. Her work is included in the collections of the Oakland Museum, The British Museum in London, The Museum of Fine Arts, Boston, The Renwick Gallery of the Smithsonian Museum of Art, and the Museum of Art and Design in New York among others.
---
Robert Ebendorf earned a B.F.A. in 1958 and an M.F.A. in 1963, both from the University of Kansas, Lawrence. He pursued studies in Norway through a Fulbright grant and a Louis Comfort Tiffany Foundation grant, training at Norway's State School for Applied Arts and Crafts and at Norway Silver Designs in Fredikstad.
Ebendorf was a founding member and past president of the Society of North American Goldsmiths. In addition to his work as a metalsmith and jewelry maker he has taught at University of Georgia, Haystack Mountain School of Crafts, Penland School of Crafts and the State University of New York, New Paltz.
---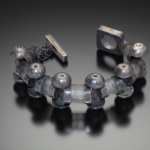 Karen Gilbert began her studies at the University of San Francisco in 1989, moving to the California College of Arts in 1991. She also spent two summers at the Pilchuck Glass School in 1996 and 1999.
She received an Artist Trust Fellowship from the Washington State Arts Commission in 1998 and achievement awards from the American Craft Council in 2003 and 2007. Her work can be found in public collections including the Museum of Fine Arts, Boston and Tacoma Art Museum.
---
Lisa Gralnick is currently Professor of Art at the University of Wisconsin-Madison. She received an MFA degree in Metalsmithing from State University of New York at New Paltz in 1980. After completing her graduate degree, she taught at Kent State University and then Nova Scotia College of Art and Design before settling in New York City in 1982 to pursue her career as an artist full-time. From 1991-2001, she was Head of the Jewelry and Metals program at Parsons School of Design.
---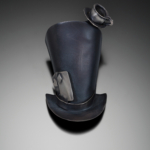 Laurie Hall is an art jeweler and teacher, who enjoys creating strong narrative pieces that incorporate incidents from her life and the American experience. She studied under the renowned jewelry artist and professor emeritus Ramona Solberg at the University of Washington.
---
Julia Harrison pursued undergraduate and graduate degrees in archaeology before pursuing an MFA in Metals from the University of Washington, graduating in 2004. She has been an instructor at Pratt Fine Arts Center since 2009 and became the Jewelry/Metals Studio Manager in 2016. Although trained in metals, her specialties are wooden jewelry and small-scale carving. Her work has appeared in galleries and museums across the country and in England, and she's received generous support and scholarships from Pratt, PONCHO, the Penland School of Crafts, Pilchuck, 4Culture, and Artist Trust.
---
Trudee Hill received her BFA in Jewelry and Metals from the University of the Arts in Philadelphia and was a Fulbright Fellow in Tallinn, Estonia in 2006. A native of the Northwest she currently lives and works in Cambridge, England.
Hill became fascinated with jewelry making while in college transferring from photography to metalsmithing. She is best known for her work that transforms sterling silver wire into letters, words and symbols.
---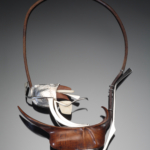 Ron Ho was a jeweler and art educator. The son of Chinese parents, he grew up in Hawaii surrounded by diverse cultures and their unique artistic expressions. His subsequent work was influenced and informed by contrasts between American culture and Chinese culture and by the cultural diversity he encountered living in the Pacific Northwest.
Ho attended Pacific Lutheran College (now University) in Tacoma. He was interested in an art career but his parents felt he should pursue a more settled profession. Ho received a bachelor's degree in art education and taught briefly in Hoquiam before landing a position in the Bellevue school system. He simultaneously embarked on an art career as a painter and studied for a master's in art education at the University of Washington.
---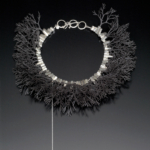 Sarah Hood earned a BA with an emphasis on writing from Eugene Lang College at The New School in New York, while studying metalsmithing at Parsons The New School for Design as part of their Product Design program. She went on to earn a post-baccalaureate BFA from the University of Washington. Her work has been shown at Savannah College of Art and Design, Fuller Craft Museum in Brockton, Massachusetts, Velvet da Vinci in San Francisco, and The Gallery at the Museum of Contemporary Craft in Portland among others. Her work also has been included in numerous jewelry publications.
---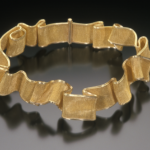 Mary Lee Hu was introduced to jewelry and metalsmithing in high school. She attended the University of Miami, Ohio for two years and then went to Cranbrook Academy of Art, Bloomfield, Michigan where she completed her undergraduate degree in Metalsmithing in 1965. She went on to graduate school at University of Southern Illinois at Carbondale receiving her MFA in Metalsmithing in 1967.
During her second year of graduate school Hu started to investigate weaving and knotting techniques with wire. She wanted to emulate the lines in her sketches in her metalwork. Hu quickly noticed that the twined wire recreated this effect and adopted this technique as the basis for further innovations. She went on to develop prestigious exhibition and academic careers.
---
Fay Jones earned her Bachelor of Fine Art from the Rhode Island School of Design in 1957. During her extensive and prolific career she has received two grants from the National Endowment for the Arts, been artist-in-residence at Pilchuck Glass School, the University of Nebraska at Omaha, and the La Napoule Art Foundation, France and participated in both solo and group exhibitions across the Northwest. The Boise Art Museum organized a major retrospective exhibition in 1996 followed by a second in 2007 at the Hallie Ford Museum of Art, Salem, Oregon.
---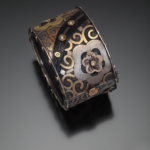 Nadine Kariya spent the first years of her life in Japan which she credits with setting the aesthetic standard by which she judges all art. She earned a BFA in metal design from the University of Washington in the early 1970s and sold her first piece of jewelry shortly thereafter. She has worked primarily in metals, occasionally including found objects such as fossils and animal bone as well as carved wood which she uses to create artworks that reference stories through symbols and icons.
---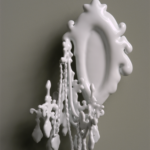 Anya Kivarkis is currently Associate Professor and Area Head of Jewelry and Metalsmithing at the University of Oregon in Eugene. She received a BFA in Jewelry & Metalsmithing from the University of Illinois in Champaign-Urbana, and an MFA from the State University of New York in New Paltz in 2004. She has exhibited her work internationally in France and England as well as in the U.S.
---
Robin Kranitzky and Kim Overstreet have worked collaboratively since 1985 when they met as co-workers at a department store. Overstreet worked in the advertising department and Kranitzky joined her after working initially in window display. Their collaborative design work for the department store led to other joint projects including jewelry making. They began designing works that combined found objects and fragments combined with precious metals which evolved into a unique narrative style focused on brooches.
The Christopher and Alida Latham Display is on extended view beginning Fall 2021. Explore Tacoma Art Museum's studio jewelry collection on eMuseum.
Banner image: Flora Book. (American, b. 1926). "Millennium Wheel," 2000. Silver beads and nylon monofilament, 8 1/4 in. x 2 1/8 in. (21 x 5.4 cm). Tacoma Art Museum, Gift of the artist, 2004.46.3. Photo courtesy of Douglas Yaple.
Source: Tacoma Art Museum