The Current Collaborative Committee has been doing a lot of work surrounding supporting Black artists in Tacoma and our region through both discussions and targeted programming. That work will continue but a break was necessary. And, what does a break look like to an arts committee? It looks like leaving the round tables and emails behind to jump out into the world; to see, touch, hear, and absorb art in real life. So we planned a field trip to see Christopher Paul Jordan and Arnaldo James' exhibition at the Frye Museum, In the Interim: Ritual Ground for a Future Black Archive. That idea quickly evolved into making a day of it and seeing as much art as we could fit into our schedule without exhaustion.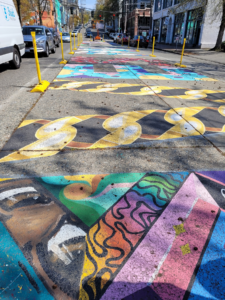 We had a flexible itinerary built out by our amazing Committee member, Jasmine Jamillah Mahmoud, who is often in the know about what galleries are featuring Black artists. Her visceral support of Black artists is infectious. We chose a Saturday afternoon in April and it turned out to be a beautiful sunny/partially cloudy day to meet on Cap Hill at the BLM Mural. Some of us made it a bit early and were able to venture through the Henry Art Gallery before we all gathered at the mural and conversed shortly on the Black artists we personally who know contributed to the mural. (Perry Porter in particular, but shout out to all the artists involved.) It's a beautiful work of art that I believe will only hold more meaning as each day passes. Especially as that particular part of Cap Hill becomes more performative in its support of Black lives.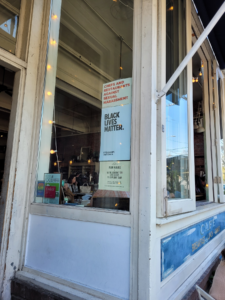 We had an extremely off-putting experience at Oddfellow, a place that most of us have dined at once or twice. An extremely rude, older, white male host greeted us with hostility at the prospect of seating a group of seven Black people. His accusation was that our party was too large and the kitchen was closing in 10 minutes, roughly around 2:30pm—all of this while simultaneously having a fairly large "BLACK LIVES MATTER. IF YOU DISAGREE, DON'T COME IN" sign in the window. The whole experience lasted a total of 45 seconds but the impression was left and Oddfellow is no longer someplace I will dine. I do not speak for the other committee members, but Jasmine and I wanted to make a point to include this incident because plenty of businesses are using that type of signage as marketing and to deter vandalism. Straight-up performance.
Our first gallery stop was after breezing by Black-owned Plum Bistro to see if there was seating. There was not. That place was jammed packed and for good reason—it's such an amazing feeling to see Black Tacoma in Seattle doing it at the highest level. Our short walk from Plum Bistro ended at the Seattle University Hedreen Gallery, a quaint gallery space with lots of natural light. We were mostly enamored with the works of Barry Johnson and Anthony White. Both are Black artists on the rise and just beginning to get their just due—not only for their artistic talents but also the monetary value of their works. A huge point of discussion for the Current Collaborative Committee is the cash value for our burgeoning Black artists. So often the cultural impact of works by Black artists is there without the fiscal reputation and representation more commonly available to white, male artists. It was a beautiful moment to talk not only about their work but the investments each of their works are becoming.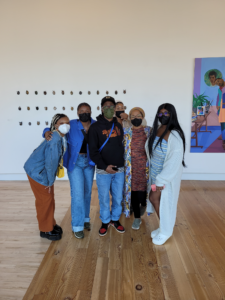 This was immediately followed by an impromptu group photoshoot sparked by Jasmine. Aren't we an adorable committee? I sure think so! But I'm biased. The exhibition at the Hedreen Gallery, Embodiment: Gender In the Expanse, "[…] examines the relationship between our internal truth and external positionality."
After talking, laughing, and photos, we were famished and decided sustenance was necessary before moving onward with our tour (in addition to having time to kill prior to our Frye Museum appointment). We found food on 12th Avenue after circling the three blocks south of Cal Anderson Park—running into businesses not yet open, businesses that have closed permanently, and poor customer service, all while dodging spots we once went to but no longer support. (Many of these businesses showed their true colors during protests surrounding our survival as Black people in the very white Pacific Northwest.) The regroup was necessary and once everyone was fueled up we split the group into two and headed for the Frye.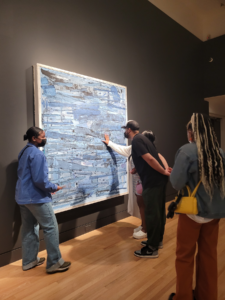 The Frye Museum is something straight out of Brooklyn or perhaps a long-gone Seattle. It's comfy; it's free; it's architecturally-inspiring; and, the staff was friendly. We were there to see and experience one exhibition only: works by Christopher Paul Jordan and Arnaldo James titled, In the Interim: Ritual Ground for a Future Black Archive. It was a mind-altering, interactive, and immersive experience. The details behind the concepts James produced and captured on camera are stunning. It's easy to lose yourself in each image as you consider the details that go into the work. The characters seem to be from both the spirit realm and reality all at once. Jordan's ingenuity and ability to be interactive feel limitless. There is even a piece you're allowed to touch, removing that invisible barrier we traditionally experience when viewing art in a gallery or museum setting.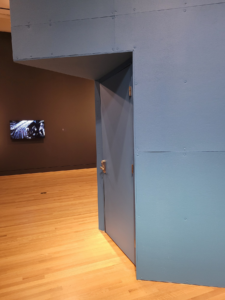 We took our time—we photographed basically the entire gallery and we were lucky enough to have Jasmine on our team who booked out the recording chamber giving us all the opportunity to leave our thoughts and words in a time capsule for Black people in 2123.
The entire day was motivation for the work we are going to continue to do. There was a new synergy built just by spending time together. Not only was it a cute day date but it was affirmation and confirmation that The Current award is necessary.
Umi Wagoner is co-owner and co-operator of eTc Tacoma alongside Perris Wright. eTc Tacoma, widely recognize as eTc, is a boutique retailer in downtown Tacoma, Washington. Umi currently serves as a member of the collaborative committee for The Current, An Artist Award, an annual, unrestricted award providing financial and institutional support to a Black artist living in the Tacoma area. Learn more about The Current on the TAM website.
Banner image: The Current Collaborative Committee, from left to right: Kendra Muliagatele, Tiffanny Hammonds, Umi Wagoner, Victoria Miles, Jasmine Jamillah Mahmoud, and Moe'Neyah Holland. Photo by Jasmine Jamillah Mahmoud.
Source: Tacoma Art Museum