Let's Do Better exists to educate and raise awareness on the many unshared experiences, injustices and disparities that exists with-in the Black American diaspora. Through vivid storytelling and creative product, they aim to build the necessary empathy and understanding needed to inspire future generations to want to create a more just society for Blacks in America.
In addition to education, the team at Let's Do Better use the revenue from their product sales and private funding to drive their philanthropic arm, The Doing Better Foundation, which exists to financially empower individuals and local organizations who embody the commitment to creating a more just society for Blacks in America.
Racism's pervasive movement through culture requires continuous vigilance, and ally ship from Let's Do Better's followers and strategic partners. They aim to widen the scope of their impact by scaling the frequency of collaborations to deliver more resources, education, and financial empowerment. It was with this in mind that a collaboration with The Kinsey African American Art & History Collection was a natural fit.
How did the relationship between Let's Do Better and the Kinsey Collection form?
"We met Khalil through his assistant Taylor who has experience in the fashion industry which is how we know him. Taylor let us know he was working with a prestigious Black family that has one of the largest collections of Black-created art. We were immediately drawn in and asked to learn more. Taylor was able to get us all on an introductory call to learn more with Khalil and we instantly knew we had to do something. We were so moved by the efforts of the Kinsey family that we wanted to use our small platform to help more people become aware of such an amazing collection and mission that is The Kinsey African American Art & History Collection."
Why do you think it is important to help spread the word about the Kinsey's collection through this collaboration?
"Because the complete history of the Black diaspora is missing in American history and school system and this collection helps to fill certain gaps with physical evidence. It's more than art; it's physical timestamps of the African American diaspora that we rarely ever have access to or learn about growing up. The collection inspires and creates empathy through understanding and education. The world needs to walk this collection and we want to help market that the best way we know: through product."
What makes the pairing of Let's Do Better and the Kinsey Collection such a natural fit?
"We both have a passion to educate as many people possible on the complete history of the African American diaspora."
For the exhibition posters, you chose the Black Panther lithograph and the names of artists, activists, and thinkers featured in the show. Why did you decide to go with these designs specifically?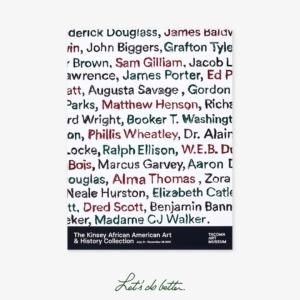 "It was very difficult to decide which items we wanted to highlight in the poster, so difficult that we wanted to think of a way to include as many contributor names as we could on one poster. We thought it would be so strong to see the names of some of the greatest Black leaders in history all on one bill. We had our friend Josh hand-paint each name and scan the image into a digital file. The end result was The Names poster and we loved it.
The Black Panther lithograph was the most visually alluring image we saw while reviewing collection, the infra red used in the lithograph was so strong and the black panther was so iconic we knew we'd be able to say everything without saying anything. The Black Panther poster retains that strong, iconic presence of the original.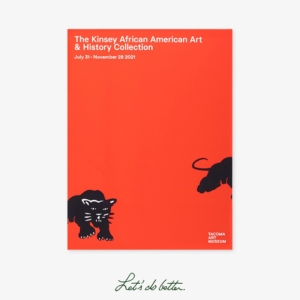 We love how the designs came out and are very honored to be able to play a part in spreading the word about The Kinsey African American Art & History Collection."
About Let's Do Better and the collaboration:
Let's Do Better is a collective effort towards ending racism against Black people in America by creating empathy through creative story-telling product that educates and raises awareness to the Black experience in America.
Check out these collaborative products for yourself on the Tacoma Art Museum Store website. Learn more about Let's Do Better and the Doing Better Foundation at letsdobetter.nyc.
All photos courtesy of The Kinsey African American Art & History Collection and Let's Do Better.
Source: Tacoma Art Museum