When you are shopping for car insurance, you need to select both the types of coverages you want and the level of coverage for each type. If you've never purchased car insurance before, knowing what to choose can be perplexing.
In order to help protect you, your passengers, and your vehicle in the event of a car accident, six common car insurance coverages are available. A car insurance policy allows you to mix and match these coverages to build a policy that meets your needs.
Washington law requires all drivers to carry liability coverage. Add to this the coverages you want and you've got the price of your auto insurance policy. Subtract out the coverages you don't feel you need to help reduce your cost.
Accidents happen. And when they do, you want to make sure you are covered. Here are descriptions of the various coverages available to protect you on a car insurance policy: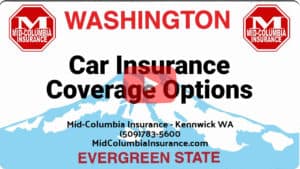 Bodily Injury Liability pays for bodily injury you cause to others. It's very important to have enough liability insurance, because if you are involved in a serious accident, you may be sued for a large sum of money. Definitely consider purchasing more than the state-required minimum liability limits in order to protect assets such as your home, savings, and future earnings.
Property Damage Liability pays for damage you cause to someone else's property. Usually, this means damage to someone else's car, but it also includes damage to lamp posts, telephone poles, fences, buildings, or other structures you damage.
Bodily injury and property damage liability limits are represented using 3 numbers, the maximum per person, maximum per accident, and maximum property damage limits ie. 100/300/50 or 25/50/25. Washington state's minimum liability limits are 25/50/10.
Uninsured Motorist Insurance protects you, your passengers, and your car if you are hit by an uninsured or hit-and-run driver. This coverage also protects you if you or a covered family member is hit as a pedestrian by an uninsured or hit-and-run driver. In Washington, Uninsured Motorist and Underinsured Motorist are combined into one coverage.
Uninsured Motorist limits equal to the bodily injury liability limits must be offered by the Insurance company but may be declined by the insured by signing a rejection form. Limits are represented in the same manner as the bodily injury and property damage liability limits.
Personal Injury Protection pays, regardless of fault, for reasonable and necessary medical treatment of injuries for you and your passengers as well as for you and covered family members when traveling as passengers in someone else's car. It also covers medical payments, lost wages, and the cost of some services normally performed by the person injured in the accident. It may also cover funeral costs.
Insurance companies in Washington state must offer Personal Injury Protection but it may be declined by the customer by signing a rejection form. Limits of $10,000 per person and $35,000 per person must be available.
Comprehensive Insurance pays you for damage to your car from things like fire, theft, vandalism, hail, falling objects, and hitting a live animal. It is sometimes called "other than collision" coverage. Comprehensive also covers repairing or replacing your windshield if it is cracked or shattered.
Comprehensive is usually sold with a deductible from $100 to $1,000—the higher your deductible, the lower your premium.
Collision Insurance pays you for damage to your car due to a collision with an object or with another vehicle — no matter who is at fault. If the accident is the other person's fault, their insurance should pay to fix your car. If they don't have insurance then your Uninsured Motorist would cover to fix your car. If you don't have Uninsured Motorist then you can have your collision insurance take care of the damage but you will have to cover your deductible.
Collision coverage is generally sold with a deductible of $250 to $1,000—the higher your deductible, the lower your premium.
Other Optional Coverages such as Towing, Roadside Assistance, Gap Insurance, Rental Car After an Accident, and Special Equipment coverage may be available from your insurance company.
Get A Car Insurance Quote Today!
If you would like a Car Insurance quote, call and talk to one of our insurance professionals directly at (509)783-5600 or fill out our car insurance quote form and we will get the quote started and call you. We are happy to offer straightforward advice and discuss your insurance options.
Fine Print: Coverages may vary between companies. Please read your policy for actual coverage descriptions and restrictions.
Article Source: Mid-Columbia Insurance Agency