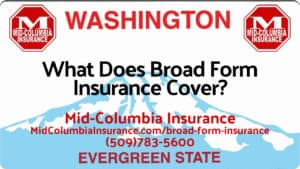 What Does Broad Form Insurance Cover?
Broad Form Insurance provides the same liability insurance coverage options that a regular car insurance policy provides, meaning, if you cause an accident, your insurance company will pay for the claim up to your insurance policy limits. The difference is, a broad form insurance policy is only in force when you, the named insured, are driving. If anyone else is driving a car you own, your broad form insurance policy does not provide any coverage. Period.
Broad Form Insurance includes Liability Insurance Coverage
Just like a regular car insurance policy, you choose how much Liability Insurance Coverage you wish to carry. From the state minimum 25/50/10 liability insurance limits to 50/100/50 or even 100/300/100. Broad Form Insurance, therefore, can be much more than "barebones insurance" as some would lead you to believe.
Uninsured Motorist (UM) Coverage Available
Uninsured Motorist can be added to a Broad Form Insurance policy so that you, your passengers, and your car would be covered if someone else hits you. Either the other person's insurance will cover you, or if they don't have insurance, your uninsured motorist coverage will cover you. After your insurance takes care of you, they will go after the other driver to get their money back.
Personal Injury Protection (PIP) Can Be Added
Broad Form Insurance policies can have Personal Injury Protection medical coverage added so that you and your passengers will be covered for injuries no matter who caused the accident (No-Fault Coverage).
Mid-Columbia Insurance – Your Trusted Insurance Broker
Give our insurance professionals a call today at (509)783-5600 or click "Get a Quote" to request a quote on your insurance. At Mid-Columbia Insurance, our goal is to get you the coverage you want at a price you can afford!
Article Source: Mid-Columbia Insurance Agency