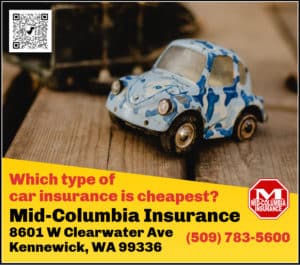 Liability-Only Insurance is Cheapest
Liability-only insurance is the cheapest option if you are simply looking to meet the law's minimum insurance requirements as it offers the least amount of protection. For car insurance in Washington, you can get liability-only insurance with a basic auto insurance policy or with a broadform insurance policy.
Don't assume that the insurance policy that works for your best friend, your work colleague, or your parents will also be best for you just because you're the same age, do the same kind of job, drive the same car, etc. There are many factors that go into insurance policy rates and getting quotes from multiple insurance companies is the only way to find what is best for you.
Get Professional Guidance
The policy that is the cheapest today may cost you a fortune in the event of an accident. Each additional coverage you add to your policy will raise the monthly cost to you but could save you a fortune if your car is damaged or you and/or your passengers were injured in an accident, your fault or not.
Insurance is designed to keep you from being financially devastated in the event of an accident. You need an agent who is more interested in you and your needs than they are in just making a sale.
Don't trust your future financial well-being to some 800# cubicle salesperson or website that expects you to know insurance. Find a Washington-based insurance agent who is willing to guide you in the insurance process both today and in the future.
Mid-Columbia Insurance – Your Trusted Insurance Agent
Give our insurance professionals a call today at (509)783-5600 or click "Get a Quote" to request an insurance quote today. At Mid-Columbia Insurance, our goal is to get you the coverage you want at a price you can afford!
Article Source: Mid-Columbia Insurance Agency