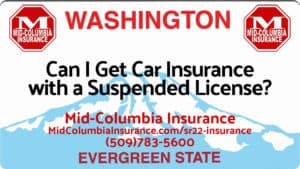 Can You Get Car Insurance with a Suspended License?
Yes, you can get car insurance with a suspended license however some insurance companies may not be willing to insure you. And to drive legally you probably may need to apply for a hardship or occupational license and will probably need to request an SR22 filing with your car insurance.
Do I Need Car Insurance If My License Has Been Suspended?
In most cases, it's a good idea to keep your car insurance when your license is suspended. A few reasons include:
If you are going to drive, you need to protect yourself and carry insurance.
If you want to get your license reinstated. One of the common requirements to get your license reinstated is providing proof of insurance, aka SR-22.
If you have a loan on your vehicle, you'll likely be required to carry insurance to protect their investment.
If you're not driving your car, it could still be damaged. Your vehicle could be involved in a hit and run while parked or it could be stolen, vandalized, or destroyed in a fire while sitting in your driveway.
How Difficult Is It To Get Insurance With A Suspended License?
Finding car insurance with a suspended license can be difficult. Depending on the reason for your suspension, some insurers may not want to insure you, especially if your driving history indicates that you're more likely to get tickets or accidents.
Some insurers may refuse to offer you coverage altogether, and the ones that do will typically charge much more than for a standard policy.
How To Find Cheap Car Insurance With A Suspended License
If you're shopping for insurance with a suspended license, there are ways you can save. Mid-Columbia Insurance specializes in finding low-cost insurance for drivers that other companies don't want to insure.
We partner with specialty insurers such as The General, Dairyland, National General, Progressive, and Bristol West who are not afraid of drivers who have collected some tickets and accidents and may need an SR22. Mid-Columbia Insurance will get quotes from each of these companies and compare coverages and rates for you.
A number of individual factors determine your premium and insurance companies weigh these factors differently so we can help you can save by finding the company that offers you the cheapest rates. So, if your driver's license has been suspended or revoked, it may be difficult to get insurance but not impossible.
Getting SR-22 Insurance
Adding an SR-22 to your policy is as simple as asking for it. Although some companies surcharge your insurance to add an SR-22, most of our companies simply charge a flat $25 fee to keep the state informed of your insurance status. One of our companies, Dairyland, has no surcharge and no fee, so the price is the same with or without an SR-22.
Insurance Options With A Suspended License
There are three possible solutions if your license is suspended and you need to get insurance:
Regular Car Insurance is the most common way to get insurance, you would just insure your car(s) and have yourself (and anyone else in the household) listed as drivers. This is the best way to do it usually if you have a car that is financed (since it needs full coverage) or you have other drivers you wish covered to drive your car.
Broadform Car Insurance covers you to drive any passenger-type vehicle whether owned or borrowed. It is perfect if you are the only driver and you drive multiple cars or trade cars often.
Non-Owner Car Insurance is very restrictive. It covers you to drive "non-owned" cars but the definition of non-owned says they cannot be cars that are parked at your residence overnight or that you could borrow most any time you wished. It is designed for someone who needs an SR22 but has other insurance to cover the cars they are driving.
All three types of policies can have an SR22 filing added and our licensed agents can help you determine which is best for you.
Mid-Columbia Insurance – Your Trusted Insurance Agent
Remember, having a license suspension is temporary. Soon the tickets will be gone and your need for an SR22 will disappear. At Mid-Columbia Insurance, our goal is to get you the coverage you want at a price you can afford!
Give our insurance professionals a call today at (509)783-5600 or click "Get a Quote" to request a quote on your insurance
Article Source: Mid-Columbia Insurance Agency