Cheap SR22 Insurance Quotes
Finding Cheap SR22 Insurance Rates
Do you need an SR22 insurance quote? If you have multiple tickets or accidents, were convicted of a DUI or Reckless Driving, were at fault in an accident and did not have insurance, or were caught driving without insurance in Oregon, you probably need to have an SR-22 filed to reinstate your license and get your driving privileges back. But that SR22 should not cost you an arm and a leg.
SR22 Insurance Quotes are Mid-Columbia Insurance's specialty. We represent multiple companies who specialize in SR22 Insurance Quotes and we can help get your license reinstated fast.
Request an SR22 Insurance Quote
Disclaimer: By requesting a quote, I am providing my express written consent to Mid-Columbia Insurance to work up an insurance quote for me and to contact me by phone, text message, and email at the phone number and email address provided. Additionally, I acknowledge that I have read, understood, and agree to Mid-Columbia Insurance's Privacy Policy.
Same Day SR22 Insurance Quote and Issue
Mid-Columbia Insurance can provide an SR22 insurance quote that includes the SR22 filing and we will file it for you.
The best way to shop for cheap SR-22 insurance quotes is to do the same thing you would to find a cheap car insurance policy – compare SR22 insurance quotes from multiple companies. And Mid-Columbia Insurance is the easiest way to get multiple SR 22 insurance quotes with just a single call.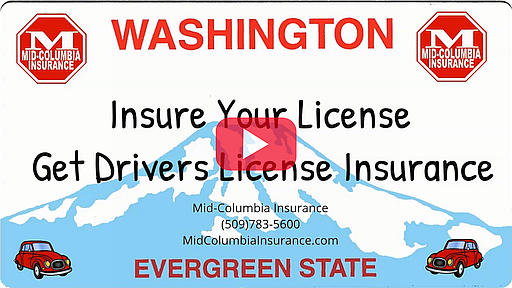 What Does an SR-22 Cost?
Most insurance companies only charge $25 to file the certificate of financial responsibility (aka SR-22) for you with the Department of Licensing (DOL). Many drivers who need an SR22 pay more than average because of the tickets they have collected, which the insurance companies use to gauge how likely you are to have an accident in the next 12 months. The higher liability insurance cost is due to covering the <a href="https://midcolumbiainsurance.com/high-risk-car-insurance">high-risk</a> behavior itself: multiple violations, driving without insurance, a DUI, etc.
If your current insurance company raised your rates significantly or if they dropped you because of the SR22 or your tickets, it's time to contact us so we can compare SR 22 car insurance quotes for you to see if we can save you some money. Getting your SR-22 filed may require a little extra work and a few extra dollars but Mid-Columbia Insurance will find you the coverage you want at a price you can afford.
Getting Affordable SR-22 Insurance Rates
If you need to file an SR-22, you've most likely been labeled as a high-risk driver. This higher perceived risk often results in higher insurance rates. But don't worry, there are a few steps you can take to lower your rates over time.
Don't get new tickets – Easier to say than to do but as your tickets and accidents age, they will fall off your driving record and lower your insurance rate at each renewal.
Buy an older vehicle – If you own a car that does not require comprehensive & collision (aka full coverage), you will need less coverage.
Consider broadform car insurance – Maybe you don't own a car or but you still need a driver's license. Broad Form car insurance covers you if you for non-owned vehicles borrowed from a friend or relative as well as any owned vehicles.
Get SR-22 Insurance quotes from multiple companies – Every company evaluates a driver's age, tickets, and accidents differently. You will find some companies are hundreds of dollars higher than others. Mid-Columbia Insurance represents a number of companies that specialize in SR22 insurance quotes.
What Companies Have the Best SR-22 Insurance Quotes?
Finding the cheapest SR22 auto insurance quotes can be a challenge. Several companies we represent specialize in providing liability coverage for drivers who require SR-22 insurance. Your SR22 rate is dependent on your age, where you live (by zip code), what kind of vehicle you drive, and your driving record. If you want the cheapest SR-22 insurance coverage and you want it quick, you've come to the right place.
Dairyland SR22 Insurance Quotes
Filing Fees & Surcharges: No SR22 fee. No SR22 surcharge.
Pros: DUI will not raise your rates if the only thing on your driving record is the DUI (guess they figure you will probably be very careful from here on out if this is the only ticket you have received in 3 years).
Cons: Not always the lowest price to start with. Has an "Under 25 year old restriction" voiding coverage while anyone 25 or under is driving your car.
National General SR22 Insurance Quotes
Filing Fees & Surcharges: $20 SR22 fee. No SR22 surcharge.
Pros: Great rates on Broad Form and Non Owner car insurance
Cons: Can only do in-state SR22s.
Progressive SR22 Insurance Quotes
Filing Fees & Surcharges: $25 SR22 fee. Surcharge equivalent to an extra speeding ticket on your record.
Pros: SR22s available for most states. Great if you got your ticket in a different state than you are living.
Cons: Do not do broad form policies. Surcharge raises your rate because of the SR22
Kemper Specialty SR22 Insurance Quotes
Filing Fees & Surcharges: $25 SR22 fee. No SR22 surcharge
Pros: Will insure drivers with terrible driving records
Cons: Policy has very onerous restrictions
The General SR22 Insurance Quotes
Filing Fees & Surcharges:
Pros: Shaq
Cons: Does not allow 25,000 property damage liability for SR22 policies.
Get Insured Today!
If you are need an SR22, call and talk to one of our insurance professionals directly at (509)783-5600 or fill out the quote form and we will get the quote started and call you. We are happy to offer straightforward advice and discuss your insurance options.
Article Source: Mid-Columbia Insurance Agency