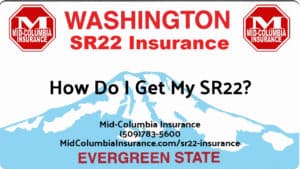 How do I get my SR-22? #
If you are not currently insured, you'll need to start by requesting a free SR22 insurance quote.
If you have insurance already, you have 2 options:
Call your agent and have them add the SR22 to your existing policy.
Leave your preferred policy alone and get a stand-alone SR22 policy.
Exploring the Options #
Can I add an SR22 to my existing policy? #
Adding an SR22 to an existing policy is the simplest and cheapest option if you already have insurance. The danger is that some insurance companies do not like to insure drivers who need SR22 filings. If they find out your license has been suspended they may non-renew your policy.
Should I get a 2nd policy for my SR22? #
If you have a number of cars on your policy, especially if some have full coverage, you may wish to protect your preferred rates and get your SR22 from an agent who specializes in SR22 insurance such as Mid-Columbia Insurance.
We can file the SR22 insurance using a broadform insurance policy that covers you to drive most any vehicle.
Mid-Columbia Insurance – Your Trusted Insurance Agent #
Give our SR22 insurance professionals a call today at (509)783-5600 or click "Get a Quote" to request a quote on your insurance. At Mid-Columbia Insurance, our goal is to get you the coverage you want at a price you can afford!
Article Source: Mid-Columbia Insurance Agency