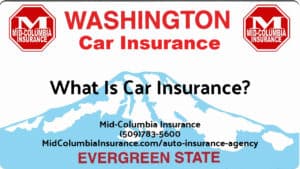 What is auto insurance? #
Car insurance serves as a safety net. When you purchase insurance for your vehicle, you are entering into a contract with the insurance company, under which you agree to pay a premium and the company, in turn, agrees to pay for injuries and damage you may cause to others as well as for injuries to you and your passengers and damages to your vehicle, as outlined in your auto insurance policy.
Why buy auto insurance? #
You should purchase car insurance because it is the responsible thing to do.
Washington state requires you to carry a minimal amount of liability insurance so that if you hurt someone or damage their property with your car, you will be able to make restitution and cover your legal fees
Without adeqiate insurance, you are responsible for paying these costs out of your pocket and if you don't have sufficient assets, a lien could be placed on your home and/or your future wages could be attached.
All the other coverages on an auto insurance policy in Washington are optional and are designed to protect you, paying medical bills for you and your passengers as well as getting your vehicle repaired or replaced.
Mid-Columbia Insurance – Your Trusted Insurance Agent #
Give our insurance professionals a call today at (509)783-5600 or click "Get a Quote" to request an insurance quote today. At Mid-Columbia Insurance, our goal is to get you the coverage you want at a price you can afford!
Article Source: Mid-Columbia Insurance Agency