If there is any chance that your driver's license may be suspended, you will want to check the status right away. Driving While Suspended is a serious offense that could have heavy fines and even jail time. Don't find out after you are pulled over or have an accident that your driver's license is suspended.
7 Reasons Your Driver's License May Be Suspended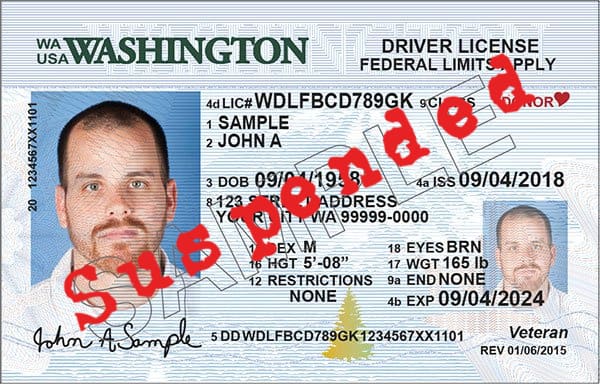 Driving while intoxicated or under the influence of drugs
Reckless or careless driving
Failure to pay traffic fines
Having an At-Fault Accident without liability insurance
Having too many violations in a specific period of time
Failure to comply with a child support order
SR22 Insurance not active or filed incorrectly
If your driver's license has been suspended, the DOL will mail you a notice to the last address you provided them. Did you notify them of your last move? Do you have a habit of ignoring your mail?
Fortunately, finding out if your driver's license is suspended is not difficult. Here are three ways to check.
3 Ways to Check If Your Driver's License Is Suspended
1. Check Your Driver's License Status Online
You can quickly find out the status of your Washington Driver's License online using the DOL website. You will need to put in your driver's license number and date of birth, click that you are not a robot, and then Next.
The subsequent page will show whether your driver's license is valid or not. The web site will not show any reasons why your driver's license may be suspended, for that you will need to talk to a representative at the DOL.
2. Call the Washington Department of Licensing

(360)902-3900
After a very long voice prompt menu and up to 15 minutes or more on hold, the representative will ask for your name, date of birth, driver's license number, and last 4 digits of your social security number. They will then tell you whether your driver's license is valid or suspended and what you need to do to reinstate your driver's license, but they will not be able to tell you details about your driving record.
3. Talk to a representative in person at your local DOL office
If you really have some time to kill, you could visit the local DOL office and make an inquiry in person. If you find out that your driver's license is suspended, the representative should be able to give you details about the suspension and what you must do in order to reinstate your driver's license.
Get Insured Today!
If you need to reinstate your license, call and talk to one of our insurance professionals directly at (509)783-5600 or fill out the quote form and we will get the quote started and call you. We are happy to offer straightforward advice and discuss your insurance options.
Español: ¿Cómo saber si su licencia de conducir está suspendida?
Article Source: Mid-Columbia Insurance Agency