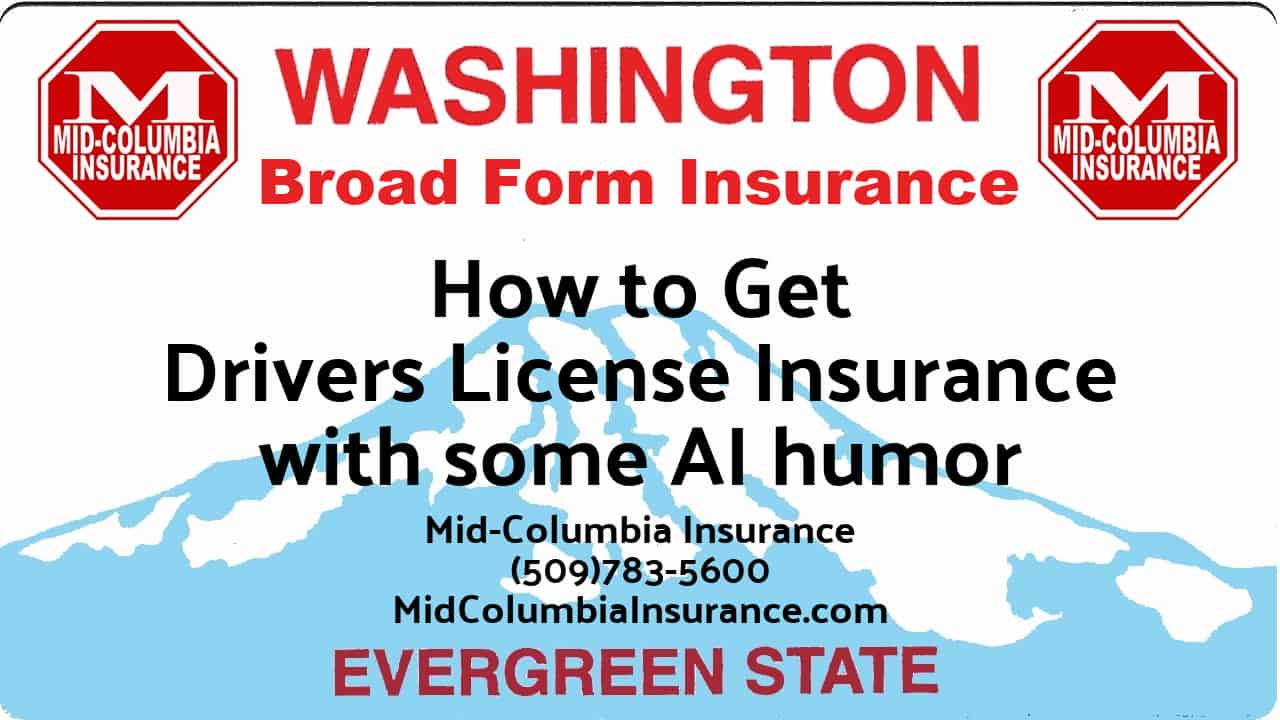 Driving is an integral part of American life. It's no surprise that there are so many laws surrounding driving, and one of the most important laws is getting car insurance. But what do you do if you don't own a car? Simple, get
broadform insurance
, also known as insurance for your drivers license.
But life is also about humor. I had a software artificial intelligence program called Jarvis by conversion.ai write most of this post, it got sillier as it went along (or maybe it was me).
Insurance on your license
Getting insured isn't difficult when you know what you are doing, but the process can be confusing sometimes. That's why we are here! We help you find out all about getting insurance on your drivers license and how simple it really is.
Many insurance companies do not do broadform drivers license insurance so it can be difficult, but it's not impossible. We'll also go over some common mistakes that people make when they are trying to get their driver's license insured so that nothing goes wrong for you!
Insurance on my license Washington state
It is not easy to find insurance for your driver's license. But on the bright side, we have a guide that will help you decide which company would be best for you and answer any questions about getting insured. It doesn't matter if it's broadform or just liability – all of these companies are reliable!
How to insure your driver's license?
National General Insurance understands the financial burden of being an over ambitious driver and are here to help. Stop risking your license without taking the correct precautions (like having insurance). With National General Insurance's "broadform" plan, you'll never have to worry about dropping your insurance because you didn't save up enough money.
Of course, if you're interested in full coverage, make sure to tell one of our representatives and they'll be happy to help you out. At Mid-Columbia Insurance we strive for customer satisfaction every time we hear your voice!
Insurance on your driver's license
It's time for Dairyland Insurance. The lowly driver's license has nothing to do with insurance, but now it does! Don't you think we can all have one more thing in the DMV with a little piece of peace of mind? With Dairyland Insurance, changing your address is as simple as a quick and easy phone call. Because it doesn't matter how many cars you might drive, your rate stays at the same price thanks to broadform insurance policy. Stop paying through the nose for renewing just because you own so many cars; Let Mid-Columbia Insurance get your license insured by Dairyland Insurance – coverage that's worth its weight in cheese curds from Wisconsinites everywhere.
Driver license insurance
Kemper Specialty Insurance has been making drivers license insurance with you in mind. That means that when we started the policy, the programmers worked overtime because they knew it mattered to you. And then we monitored every single step of our production process and shipping and delivery so that you never would have to experience a delay or inconvenience ever again while waiting for your Kemper Specialty Insurance card to arrive!
How to get insurance on my license?
Get access to competitive car insurance rates that match your driving habits with Progressive's driver snapshot car insurance policy. You don't have to be perfect or even good but you should have a clean run of it for at least six months so the price can adjust to how well you drive on the road. Start today and get insured for less instead of what all those other companies who want, like, double for their lousy coverage.
Can you get insurance on your license?
Get to work on time and with no worry, 'cause Bristol West Insurance is waiting for you. You're not the only one with questions about your insurance.
You'll always hear about it from your dad and mom, but getting insurance on your license is something you should do. It covers everything. You might lose the car, or even have to bail out an ex-girlfriend who had a DUI!
How to get insurance on your license?
Example of a typical day at The General Insurance. Do you struggle with getting insurance on your driver's license? We know the feeling. We will deal with those major headaches for you so that you can go about your life stress-free.
We'll take care of everything from filling out all the paperwork to making sure it's done before deadlines – and our expertise in knowing what exactly needs to be submitted means things get done right the first time. All we ask is that next time something delays or complicates things, just remember these words: "Mid-Columbia Insurance covers."
Insured license – a story
"You know, I'm not just a pretty face," Daisy said. "I can help you get your license insured."
She typed furiously on her keyboard and clicked through the screens. She could feel the tension radiating off of her customer in waves. The screen turned into a blur as she tried to pull up Dairyland Insurance's website; it was taking far too long for him to be able to see what he needed from there.
"Here," she said, as she pulled up Google Chrome on her laptop and quickly typed in MidColumbiaInsurance.com into the search bar, then clicked enter. She watched as he exhaled sharply before saying anything else…
Insurance for drivers license – a story
Kyle was trying to get the insurance for his client, but he was struggling. He had worked so hard and called many different insurance companies, but no one wanted to take this client. Kyle knew that this meant he would have to work late because it is more difficult to write a policy when someone has so many tickets. So far, National General Insurance was giving the best rate, which makes sense considering they are the biggest ones around here. Remember, there's always hope as long as you're not out yet!
Insurance on license – a story
Estevan, a licensed insurance agent, was sitting in his office waiting for the next customer. The clock read 10:30 am and he had already written broadform insurance for three people today with Kemper Specialty Insurance. He was anxiously tapping his fingers on the desk when he saw a man come into the office with asking for insurance on a license. "Hi! You must be Estevan," said the man as he smiled and walked over to shake hands with him. "I need your help."
How to insure my license
Bristol West Insurance knows that the last thing you want is to be told by your insurance company that they won't insure a driver with an accident on their driving record. We can help, and we'll make sure that when it comes time for renewal, you will have as little hassle as possible.
Insurance on license WA
It can be a pain to get the insurance after you've received a ticket or had an accident. Progressive Insurance can help! They have great rates and plans that will fit any drivers needs. Mid-Columbia Insurance is proud to represent Progressive in Washington state.
Insure my license
– Protect your license!
– Insuring your drivers license is easier than ever
– Now you can insure it in just a few clicks
– Make sure your job is secure and keep driving legally
Insurance for license
• Protect yourself and your license
• You're always protected with National General Insurance
• Most policies are very affordable
• Peace of mind that you can't have without the protection of insurance
Insurance on my license
Today we're going to talk about how getting insurance for your license can save you a lot of time, money, and hassle in case something ever happens. It's actually really easy so don't worry, but there are some things that you may not know which is why I wrote this.
There are a lot of companies out there that offer different types of policies, but not all of them will give you the best coverage at an affordable price. That's why it's so important to do some research before signing up. I've done my homework and found what I think is one of the absolute best deals out there right now – Kemper Specialty Insurance! Let me show you how we can make sure you are insured and stays safe while also saving money.
Insurance on driver's license?
Have you ever been pulled over for speeding and wished you had insurance on your driver's license?
Dairyland Insurance is a company that offers insurance on driver's licenses. They offer some of the best rates in the industry, so it doesn't matter what kind of car you're driving!
Get a quick quote today to see how much money we can save you! It only takes a few minutes to answer some quick questions. Call now to find out how much money Dairyland Insurance could save YOU!
Insuring your license
Attention: You need to insure your license!
National General Insurance is the best insurance company to get a license insurance policy. They offer competitive rates and coverage, so you can be sure that your license will always be insured.
Don't risk losing everything because of an accident or injury. Get a quote today and find out how affordable it is for you to protect yourself with National General Insurance.
Insure drivers license
Do you have a driver's license? You need to protect yourself while driving. Kemper Specialty Insurance is here for you. They offer some of the most competitive rates and coverage in the industry, so we're confident that our insurance will work for you. Get a quote today!
It's time to get insured with us before it's too late! Let us help keep you insured and give yourself peace of mind by getting an affordable rate on insuring your license with Kemper Specialty Insurance.
Can you insure your driver's license?
Do you drive other people's cars? Bristol West Insurance is here to help! They offer insurance for your driver's license. You never know when you might get pulled over or in an accident so don't leave yourself vulnerable. Protect yourself and be responsible with Bristol West Insurance today!
Insure your license
Getting insurance is hard, but getting the right insurance at a good price is even harder.
One way to find how much you should pay for the kind of coverage you need is by spending hours on the phone calling lots of companies or going online and filling out forms that don't really give you any information.
Mid-Columbia Insurance makes getting auto insurance simple, fast, and easy. Our friendly agents will help you choose the coverage you want at a price you can afford without having to spend time shopping around for different quotes from multiple companies.
How to get insurance on your driver's license
Having insurance is an important part of being a responsible driver but it's also expensive and complicated. Most people don't know what they're buying or how to compare policies from different companies.
If you want to save money on your broadform insurance, you need to find the right insurance company for your needs. We'll walk through all the steps with you so that you can get the best coverage at the lowest price possible.
Our goal is simple – help our customers drive happy!
Driver's license insurance
You know you're not invincible, right? Your driving privileges are one your most important assets, and if anything were to happen, being in an accident or just getting pulled over — well then that would be just terrible.
Dairyland's driver's license insurance policy provides coverage for those unfortunate mishaps that life might throw your way (you are driving after all). From minor mishaps where you get pulled over to more serious things like an accident with another vehicle which costs thousands of dollars in damages — everyone needs protection. This is what broadform insurance does: it protects you in case you damage others people's property or cause bodily injury.
How much does it cost to insure your license?
Hey! Let's talk about driver license insurance. It allows you to get to work, buy groceries, and do whatever else it is that makes life so great. National General Insurance broadform insurance can protect you for a low monthly premium – then if anything does happen (i.e., getting in an accident or just getting pulled over), you know you are insured so you can get back out there as soon as possible and be driving legally again.
Can I get insurance on my license?
Don't watch the road ahead of you, just drive; the sky above you, just fly. Keep your mind close to who is in need of protection and Kemper will cover them with ease. From insuring your drivers license to your brand new car, Kemper Specialty can insure it all!
Look for quality coverage at an affordable price, buy insurance from Kemper through Mid-Columbia Insurance today and never stress about what could happen.
How do i get insurance on my license? – a story
Gary smiled as he walked into his small office and saw his client, Dawn. He has been an insurance agent with Mid-Columbia Insurance for over twenty years and had gotten very good at this job. He was always there to help people with their needs. Sure, it's not glamorous work, but Gary loves being able to give back to his community one person at a time.
"Hi Dawn! What can I do for you today?" His smile lit up the room and she couldn't help but return it ten-fold.
"I just got my license and now I need insurance!" She replied enthusiastically. "It feels like such an accomplishment!"
"That is a lot wonderful!" He said, "I'm so excited for you! Now let's get insurance on your license so you can be legal to drive."
Insure my drivers license – a story
John walked into Mid-Columbia Insurance and saw a familiar face, it was his insurance agent Kyle. John's insurance policy was up for renewal and he needed to get different insurance before his old plan expires. He remembered that Kyle always seemed happy to help him out with this sort of thing so he went over to talk to him.
Kyle showed John around the office and introduced him to everyone who works there; they were all very friendly people. They got down to business quickly and Kyle pulled up a Dairyland broadform insurance quote on his computer screen which had the best rate based on what John told Kyle about his situation today. It only took a few minutes more for them both, but now everything was taken care of!
Can i insure my drivers license?
Progressive Insurance is the nation's third-largest auto insurance company. They have been around since 1937 and are based in Ohio, with more than 8 million customers nationwide.
Although Progressive provides competitive rates for drivers of all ages and experience levels, it does not offer broadform insurance. So, if you're a new driver or have had an accident or ticket in the past, Mid-Columbia Insurance can help you to find affordable coverage that fits your needs through Progressive or one of our many other partner companies.
Insured drivers license
Safeco Insurance does not do drivers license insurance but is a company that specializes in auto insurance for mature drivers. If you're worried about your rates skyrocketing because of your age, don't be! Safeco has the experience to get you the best rate possible through their Washington agent, Mid-Columbia Insurance.
Not so humorous insurance on drivers license
Mid-Columbia Insurance does not do humor well, ask you can tell. Instead we specialize in offering broad form insurance (aka drivers license insurance) to Washington drivers – and we're good at it. We work for you, getting you the coverage you need at a price you can afford.
Our agents are friendly, personable people who, besides having a sense of humor, will be there to answer all of your questions with no pressure whatsoever. So if you want great protection without worrying about going broke, give us a call! (509)783-5600.
Article Source: Mid-Columbia Insurance Agency