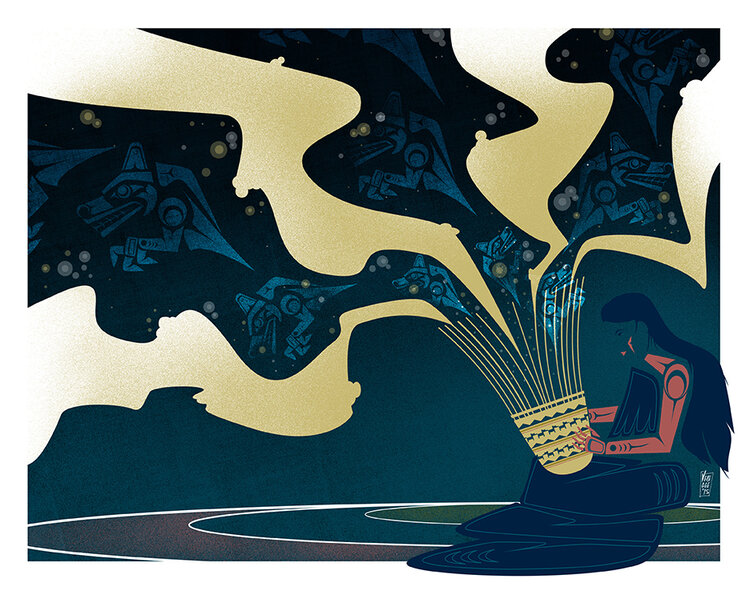 "For thousands of years, Native and non-Native storytellers have used art as a means to share the tales of their people. For me, I am carrying on a tradition that started with my ancestors by simply using the means of today and all it's modern conveniences to share the tales that I love.
Art evolves, tools get better, but the essence of what I do is the same as those who did it on the canvases nature provided for them to tell the stories of gods and heroes long, long ago."
Jeffrey Veregge is an award-winning Native American artist & writer from the Port Gamble S'Klallam Tribe near Kingston, Washington. He is best known for his use of form-line design with pop culture inspiration which his fans dub "Salish Geek". He has over 100 comic book covers working for Marvel, IDW, Valiant, Dynamite, Boom! & Darkhorse Comics.
His story and works have been featured in The Huffington Post, Fast Company Magazine, Wired Magazine (Germany), Entertainment Weekly, Seattle Times and Magazine, Evening Magazine and many others.
In 2009, Jeffrey collaborated with Tacoma's Museum District partners (Tacoma Art Museum, Museum of Glass, and the Washington State History Museum) to create the current logo and design for the annual IN THE SPIRIT Arts Market & Northwest Native Festival. This design has been adapted and used for the festival ever since, including this year's 16th annual celebration.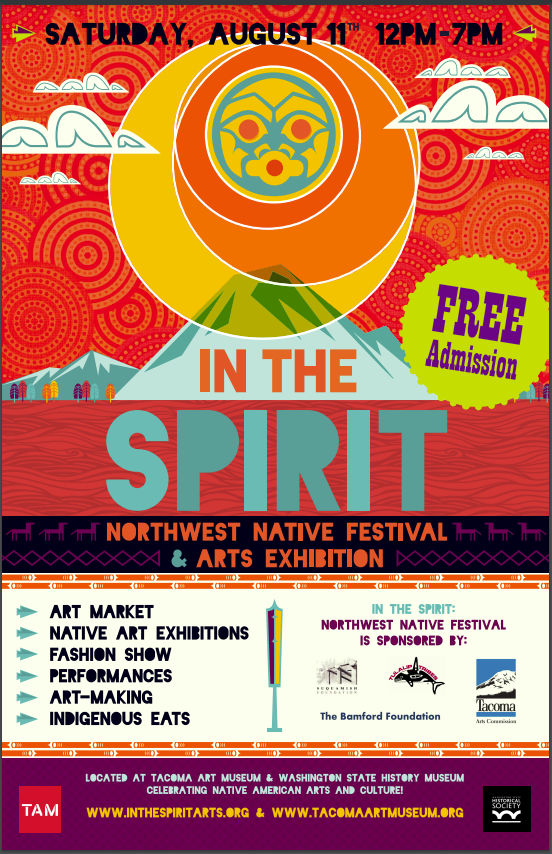 Along with his comic work, gallery shows, design, and public art works, Jeffrey had a 15 month solo exhibit in 2018 that featured his favorite Marvel characters at the Smithsonian in New York City called; "Of Gods & Heroes: The Art of Jeffrey Veregge". The end result being two 50 foot murals that were purchased for the Smithsonian's permanent collection.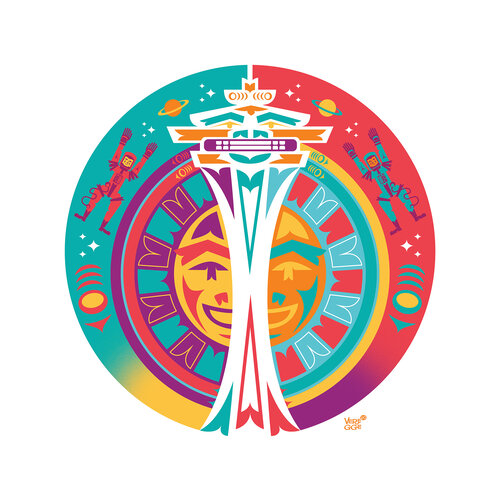 Most recently he has agreed to create a large exit mural for Climate Pledge Arena, the future home of Seattle's NHL team: The Kraken.
Purchase a piece from Jeffrey Veregge for yourself. Apparel with his designs can be found on Fingers Duke; his prints and edition artworks can be found at the Stonington Gallery; and, his official artist line for the Seattle Space Needle can be found here. You can also follow this award-winning work on his website, Facebook and Twitter.
Since late June 2021, Jeffrey has been battling an autoimmune disease. He and his family are asking for the love and support of the community to which he has brought so much joy and light through his art. If you're interested in supporting Jeffrey during this difficult time, please consider donating to his treatment and recovery via his GoFundMe campaign. Your support is greatly appreciated.
---
2021 marks the 16th annual IN THE SPIRIT celebration, honoring traditional and contemporary Native and Indigenous arts and cultures. IN THE SPIRIT is a collaboration between the Washington State Historical Society, Tacoma Art Museum, and Museum of Glass. IN THE SPIRIT is an opportunity for our communities to learn about, meet, and support the many exceptional Native artists working in the Pacific Northwest. Learn more about the festival, explore the Virtual Arts Market, and find other online events on the In the Spirit website or visit the Tacoma Art Museum's events page. IN THE SPIRIT Arts Market & Northwest Native Festival takes place Saturday, August 7, 2021 from 10: 00 am to 5:00 pm.
Source: Tacoma Art Museum