Not a happy ending for the pickup that was left parked and unoccupied on the side of the road between Pasco and Walla Walla on SR12. The truck was taken out by a semi that apparently veered a bit off the road either due to the fog or inattention. The semi did not fare well either, ending up on its side just a bit further down the road.
Quite a bit of a kerfuffle on the Walla Walla County Sheriff's post because of the final sentence, "If you do choose to leave your vehicle, you do so at your own risk!" People thought they were saying the accident was the pickup driver's fault. No, "at your own risk" means #AccidentsHappen. Best to try to avoid them by getting the vehicle towed immediately. Was a good thing though the driver was not sitting in the pickup waiting for a tow truck. Every time you get in your car to drive somewhere you do so at your own risk. The comment means you have no guarantee your car will be in the same shape you left it, not that it was the cause of the accident.
With the limited details provided, the accident was most likely the fault of the truck driver not staying between the lines. Sure, there was heavy fog but "I could not see the road ahead of me" is not an excuse that will get you out of this ticket. Should either be parked or driving slow enough to be safe.
You Don't Need Insurance… Until You Do
How would your car insurance handle this claim? Hopefully the semi-truck's insurance would handle everything but, if not, here are some coverages that would help.
Collision Coverage
If the pickup has collision coverage, then the pickup's insurance company will help get the claim settled if the semi's insurance does not step up. You could even get your vehicle fixed while waiting for the claim to settle and get reimbursed for your deductible once the semi's insurance pays up.
If the pickup owner chose not to carry collision coverage, then they will have to work through the claim themselves. The semi's insurance may take its time determining fault. At least in a situation like this, most likely the semi had insurance.
Personal Injury Protection (PIP)
Luckily the driver of the pickup was not in the rig when the accident happened. Had he been, Personal Injury Protection (PIP) would have been vital. I cannot imagine how severe the bodily injury would have been. Your PIP coverage pays immediately. The semi's insurance will not pay the doctor anything till you settle the claim. If the settlement takes a year, you are responsible for the medical bills till then.
It is accidents like this that convinced me years ago to carry $35,000 per person PIP and not just the $10,000 coverage that is usually offered. I will be very happy if I never have to use it, but the peace of mind when you see a serious accident is worth every penny.
The Insurance You Want… At a Price You Can Afford
Talk to your insurance agent and ask them about your coverage. See how much collision coverage would cost if you don't have it and how much it would be to increase your Personal Injury Protection (PIP) coverage. It might be less than going to a movie once a month. That is a small price to pay for peace of mind. And you can be glad if you never have to use it.
If you don't have an agent (or you have a cartoon character at an 800 number), we would love to discuss your coverage with you! There is a good reason to have a professional, licensed, Washington insurance agent who can help you get the coverage you want, at a price you can afford.
Twitter Video from State Trooper C. Thorson
Facebook Post from Walla Walla County Sherriff's Office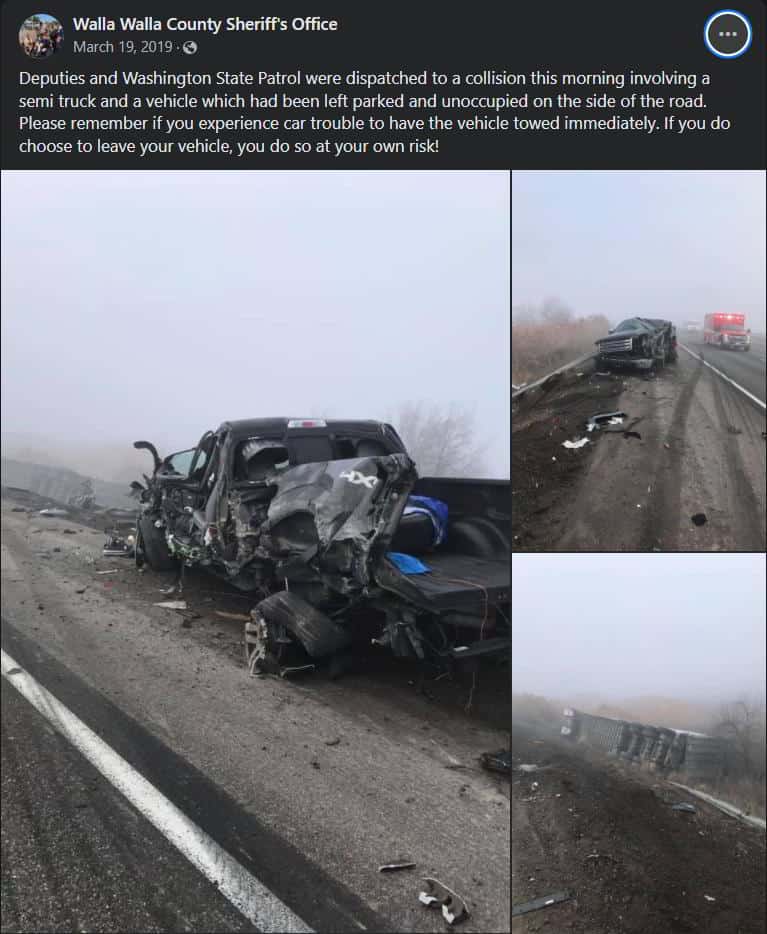 Mid-Columbia Insurance – Your Trusted Insurance Broker
Give our insurance professionals a call today at (509)783-5600 or click "Get a Quote" to request a quote on your insurance. At Mid-Columbia Insurance, our goal is to get you the coverage you want at a price you can afford!
Español: Estacione al Costado de la Carretera Bajo Su Propio Riesgo – Semi vs Camioneta
Article Source: Mid-Columbia Insurance Agency