According to Puyallup historians, Native American travelers knew the tough part of their journey lay behind them when they were greeted by a welcome figure like this on the shores of Puget Sound. Carved by Qwalsius (Shaun Peterson), in a style unique to the Puyallup People, spuy'elepebS/Welcome Figure is a modern take on a local traditional art form.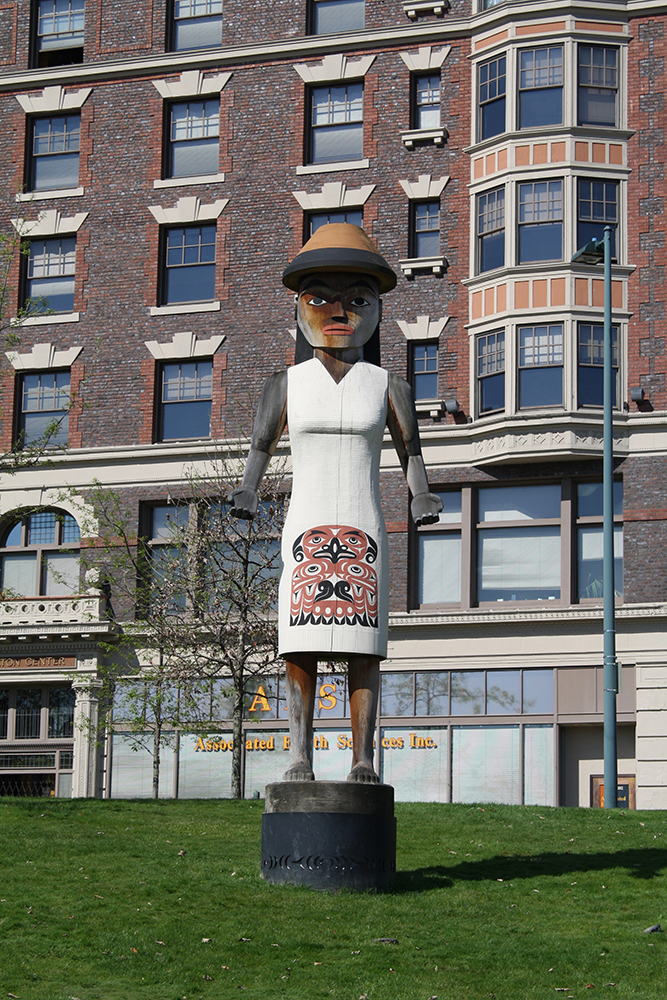 The style of spuy'elepebS/Welcome Figure is traditional to this region and the Coast Salish tribes. Totem poles are often mistakenly identified with the Pacific Northwest, but that form was primarily practiced by the First Nations Groups of Canada and Alaska. Traditional wood carving practices of the Puyallup included welcome figures.
In the words of the artist, the colors and formlines of this piece were chosen with intention and purpose:
"The earth red color here signifies the healing power associated with Thunderbird by the Puyallup people long ago. Although it was believed that Thunderbird had white feathers, the print and the painted dress pattern convey a healing that is called upon for the devastation of losing a prominent village. Contrary to surrounding tribes who envision the Thunderbird as a massive creature who consumes whales, the Puyallup perceived the being to be no larger than a small hawk. It is an indication that power was not associated with mass and that the strength to heal was of equal if not greater importance in the philosophy of our ancestors."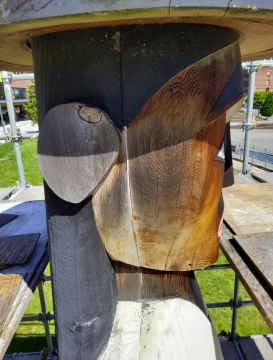 Many Puget Sound tribes continue to practice the important practices that distinguish this region of the world, generously sharing their culture through art, song, and dance. The intention of this contemporary welcoming figure is the same as that of its predecessors: with its arms outstretched, it gracefully receives visitors to the site while powerfully honoring the traditions of the area's first peoples.
Starting in summer of 2021, the City of Tacoma hired an expert conservator to review spuy'elepebS/Welcome Figure with input and consultation from Shaun Peterson. This marks the first time a detailed examination of the piece has been done since it was installed in Tollefson Plaza in September 2010. In addition to the general recommendations for cleaning and repairing the piece, the project also includes a commission for a metal cap for the sculpture. Part of Shaun's original design for Welcome Figure, the cap will both enhance the aesthetic beauty of the piece and provide protection for the wood from water and any other potential issues, extending the life of the artwork.
Search works by Shaun Peterson (Qwalsius) as part of Tacoma Art Museum's collection on eMuseum and find out more about the artist on his website.
Source: Tacoma Art Museum