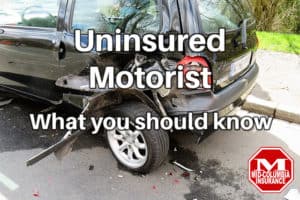 What is uninsured motorist coverage?

Uninsured motorist coverage pays the medical bills for you and your passengers and for damage to your vehicle if you are hit by someone who either does not have car insurance (or does not have enough).
What is the difference between uninsured and underinsured motorist coverage?
The primary difference between uninsured and underinsured motorist coverage is that uninsured coverage protects you if you are hit by a driver who has no insurance at all, whereas underinsured coverage protects you if the at-fault driver does not have sufficient insurance to fully compensate you for your injuries or property damage.
In some states uninsured motorist and underinsured motorist are purchased separately, In Washington state the two are combined, so an uninsured motorist is just a very underinsured motorist.
Types of uninsured motorist coverage
Just like liability coverage, uninsured motorist coverage offers both bodily injury and property damage coverage.
Uninsured Motorist Bodily Injury (UMBI) covers the your medical bills, lost wages, pain and suffering, and funeral expenses that exceed the amount that the other driver's insurance (if any).
Uninsured Motorist Property Damage (UMPD) covers the costs of fixing your vehicle if that damage exceeds the coverage offered by the at-fault driver's insurance policy (if any).
Protect yourself from uninsured or underinsured drivers. Get a quote from Mid-Columbia Insurance.
Washington state uninsured motorist coverage requirements
Uninsured and motorist coverage is not a required coverage in Washington state, However, we highly recommend you carry this coverage. If you are involved in an accident and the at-fault driver does not have enough insurance, you don't want to worry about the cost of fixing your car or the medical expenses for you and your passengers.
The Insurance Research Council estimates that approximately 13 percent of motorists are uninsured, making uninsured motorist coverage essential in protecting you and your family from the possible consequences of an accident that is not your fault.
Making an uninsured motorist claim
If you are hit by an uninsured driver, filing a claim is straightforward. You simply call your insurance company and begin the claim process.
If the other driver has insurance, but not enough coverage, you will still follow the same process notify your insurance carrier as soon as possible so that they can explain how your underinsured motorist policy might apply.
If you have questions about uninsured motorist coverage, or any other types of insurance coverage, such as comprehensive or collision,.Mid-Columbia Insurance can help. To learn more about this and other auto insurance coverages, please contact us at 509-783-5600.
Mid-Columbia Insurance – Your Trusted Insurance Broker
Give our insurance professionals a call today at (509)783-5600 or click "Get a Quote" to request a quote on your insurance. At Mid-Columbia Insurance, our goal is to get you the coverage you want at a price you can afford!
Español:
Article Source: Mid-Columbia Insurance Agency